It's All About the Budget Around Here
This week was all about the most important bill that will be passed this legislative session, the state budget.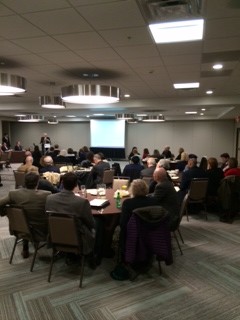 At Wednesday's Budget Breakfast, Ted presented an analysis of Governor Tomblin's proposed Fiscal Year 2016 state budget (which will start on July 1, 2015) to a standing-room-only crowd. Joining him to take questions from the audience were Senate Finance Chair Mike Hall, Senate Minority Leader Jeff Kessler and Secretary of Revenue Bob Kiss.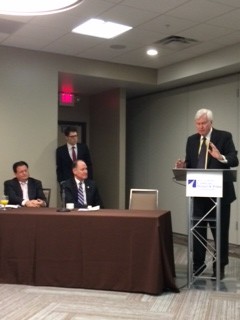 Senator Mike Hall is joined by Senator Jeff Kessler and Secretary of Revenue Bob Kiss at the 2015 Budget Breakfast, The panel was moderated by WVCBP board director Stephen Smith on January 21, 2015.
In response to concerns from House and Senate leadership, this week the governor continued to tweak his numbers so he would need to take less from the state's rainy day fund to close the budget gap. What did he do and where is the money coming from now? Read more in Ted's blog post.
These Charleston Gazette and Beckley Register-Herald articles feature some quotes from Wednesday's panelists and recaps of this year's Budget Breakfast. Of note is Secretary Bob Kiss explaining that the tax cuts imposed over the past several years are not necessarily permanent, and the state could be back to experiencing budget surpluses beginning with Fiscal Year 2017 or 2018. Could this mean funding restored to higher education and other important programs?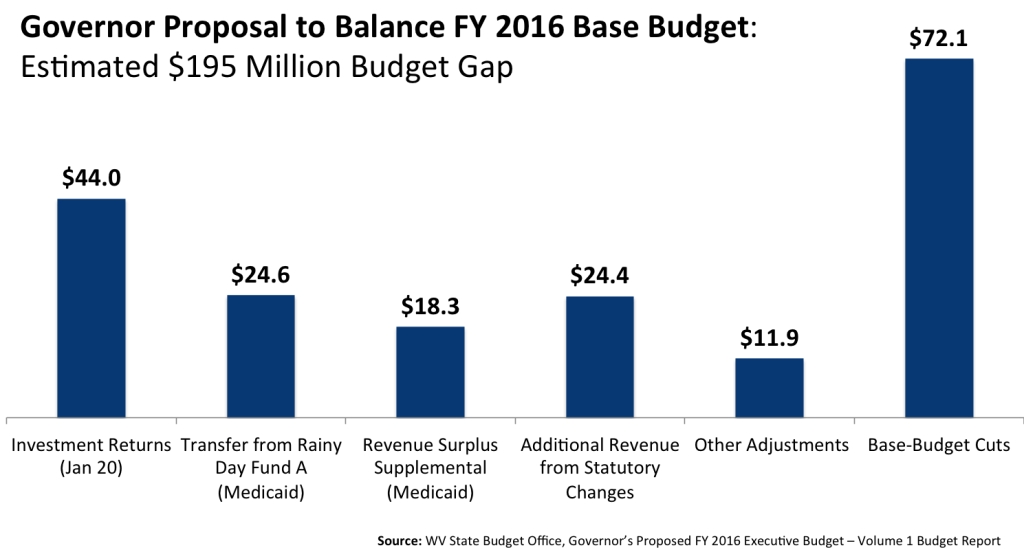 Here's next week's budget hearings (in respective Finance Committee rooms):
1/26/2015
2:00 PM – Department of Environmental Protection (House)
3:00 PM – Department of Commerce (House)
3:00 PM – Department of Education (Senate)
4:00 PM – School Building Authority (Senate)
1/27/2015
3:00 PM – Department of Health & Human Resources (Senate)
1/28/2015
9:00 AM – State Auditor's Office (House)
10:00 AM – State Treasurer's Office (House)
2:00 PM – Department of Revenue (House)
2:30 PM – State Lottery (House)
3:00 PM – Department of Military Affairs and Public Safety (Senate)
1/29/2015
9:30 AM – Division of Corrections (Senate)
3:00 PM – Department of Revenue (Senate)
4:00 PM – State Lottery (Senate)
1/30/2015
9:00 AM – Department of Health and Human Resources (House)
More Jobs for West Virginia Youth Could Cut Crime Rate
Creating more jobs for the state's youngest workers could tackle several of the state's pressing problems at once: it could decrease poverty, provide more income for working families, reduce the crime rate and improve West Virginia's labor force participation rate (the lowest in the country).
Read more in this op-ed by Rick Wilson, former WVCBP board member and closet wonk.
Second Chance to See The First 1,000 Days
Kids and Families Day last week featured the world premiere of "The First 1,000 Days: Investing in WV Children When it Counts." In case you missed it, the film's television premiere is Monday, February 2 at 9 PM on your public broadcasting station. The film features our very own Ted Boettner!
Here's more from WV Public Broadcasting and you can watch the trailer here.

Volunteers and Donations Allow Hundreds to See "Selma"
As part of the Martin Luther King, Jr. holiday, hundreds of Charleston young people got to see the movie "Selma" for free and talk about the 50th anniversary of the Civil Rights Movement.
To stay informed about future events and meetings, join the Race Matters in WV public group on Facebook.
Future plans include launching a website and holding an Undoing Racism workshop this spring.
Here's more on Monday's movie experience.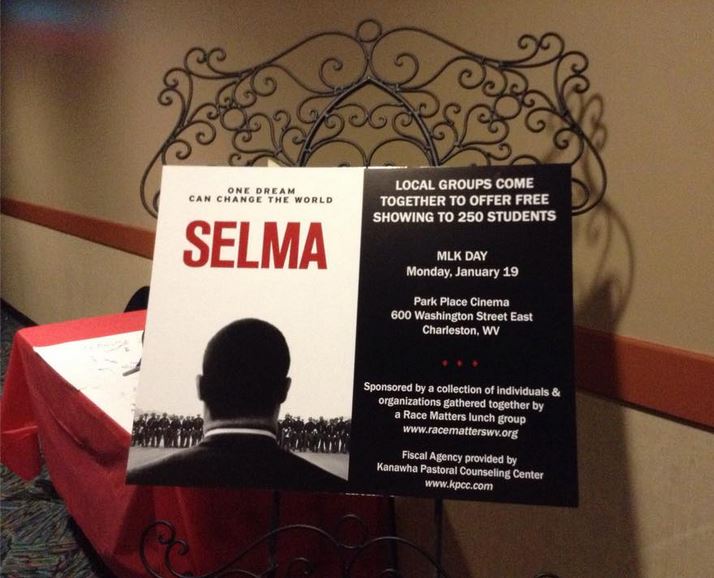 Earn It. Keep It. Save It!
While we don't have a state Earned Income Tax Credit (EITC) in West Virginia yet, low-income working families can benefit from the program at the federal level which provides families with a refundable tax credit if their income is below $53,000. On Friday, January 30 volunteers will be on hand to help people file their income tax return and find out if they are eligible for the federal EITC.