Join Us At Next Week's Budget Breakfast
The 2014 Budget Breakfast is just a few days away. Join us on January 22 as we discuss the governor's proposed budget and how we can educate and activate state legislators on how any proposed cuts could impact important programs in the Mountain State.
Tickets are $20 and include a breakfast buffet. Registration opens at 7:30AM and the Budget Briefing takes place from 8:00AM – 9:00AM.
Sponsorships are still available at the $250 level (includes 2 tickets), the $500 level (includes 4 tickets) and the $1,000 level (reserves a table of 8). Sponsorship includes being mentioned in conference materials.
Decline of Public Employee Wages Has Ripple Effect
A large portion of our workforce has not seen a wage increase in quite some time: public employees. Take that shrinking wage base, add in the Sequester cut-backs and that means less revenue collection for the state. Find out more about what this is doing to the state budget in Sean's blog post this week.
Free Movie – Inequality for All – Moved to January 24, 2014
Due to the water crisis, the screening of "Inequality for All" at the Culture Center has been moved to January 24, 2014 from 5:30-7:00PM. A discussion and reception will follow. Apologies for any inconvenience!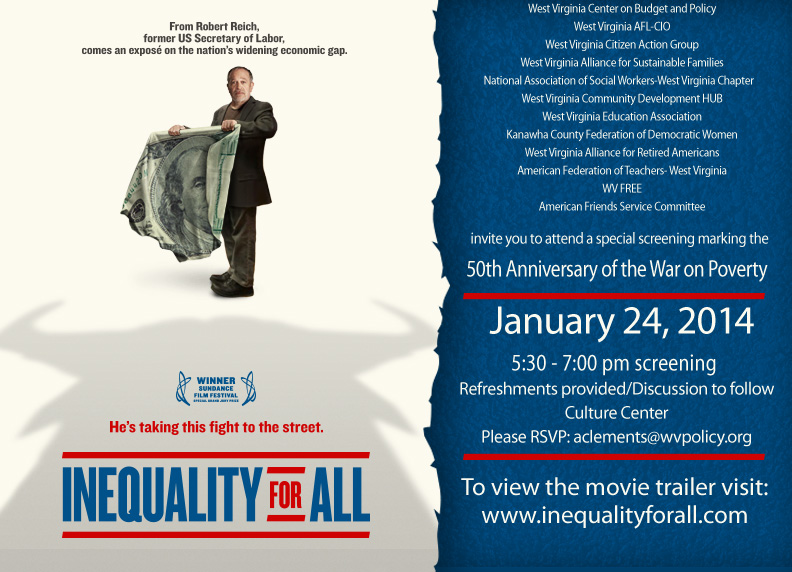 Water Crisis in the News
As we all struggle to get our lives back to normal, here are some interesting articles regarding last week's chemical spill from Robert Reich, film maker of "Inequality for All," National Geographic, and this Bloomberg piece that quotes WVCBP Executive Director Ted Boettner.