Budget Beat – July 26, 2013
Evidence Counts – SNAP Benefits Important to West Virginia
The House of Representatives has passed a Farm Bill without SNAP (food stamp) benefits. If this bill becomes law it will affect low-income families in West Virginia who relies on the benefits to help them make ends meet. One in 5 of us in the Mountain State rely on help from SNAP to put food on table. Read more in Ted's blog post.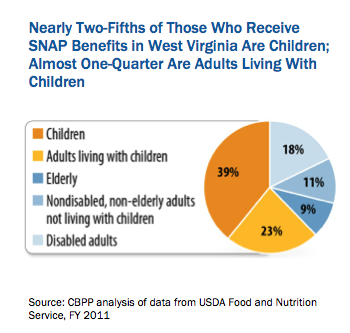 Implementation of Obamacare is just months away and West Virginia is preparing for the transition. In his two blog posts, Brandon explains some of the continuing bumps in the road as full implementation looms. As West Virginia prepares, the governor's office has submitted a letter with questions on how the Marketplace will work. Read more here. Opponents of the Affordable Care Act continue to call for its repeal time and time again. Interestingly, back in the 1980's conservatives put together a plan for health care reform that is similar to the same law they are opposing today. More here.
Coal may still be King, but natural gas must be royalty as well. Between 2010 and 2012, natural gas production doubled in West Virginia. Legislative leadership is growing on starting a Future Fund in West Virginia, to set aside tax revenue from natural gas production for the future. As Ted explains in his blog post, now is the time.
Even though West Virginians pony up more than residents of other states when it comes to paying for road maintenance, it's still not enough to pay the tab. How much does the state pay for its highways as compared to other states? Read more in Sean's blog post.
In the News – Students and SNAP – Federal Decisions Affecting West Virginia
Again this week the WVCBP was mentioned in a State Journal article on student loan interest rates. While the U.S. Senate reached a deal this week, it remains to be seen if the law will make it to the president's desk.
West Virginia Public Broadcasting interviewed Ted Boettner to find out more about how the new Farm Bill, and its gutting of SNAP benefits, will impact the state. Each congressional district in the state has double-digit numbers of people who rely on the program to makes ends meet. Hear Ted's interview here.
Middle Class Are the Job Creators?
Even some in the 1% say that it is the Middle Class who creates jobs. Without them, there would be no one to buy things and keep the economy growing. Here's more on research that supports this notion.
Chat With Sean
What policies must be in place to combat poverty? How is the sequestration impacting low-income families? Our very own Fiscal Policy Analyst Sean O'Leary will be a panelist on a national call sponsored by the Coalition on Human Needs that will tackle these issues. Plan to listen in on Wednesday, July 31 from 11AM to noon. To register for the call, click here.
Grants Available
The Affordable Care Act (ACA) expands health insurance coverage to virtually all Americans through Medicaid or the new Health Insurance Marketplace. This is an once-in-a-lifetime opportunity to provide health care and financial security to thousands of our neighbors, friends and colleagues. In order to take full advantage of this opportunity, West Virginians for Affordable Health Care is offering a series of regional training across the state and mini grants to nonprofit and faith-based organizations, and government units. The training and mini grants are designed to develop "community assisters." The role of community assisters is to educate the public on the new insurance options and how to enroll; assist people with uncomplicated family situations to enroll in Medicaid; and to connect the uninsured to more highly trained individuals who can enroll people with even the most complicated situations.
If you are a FRN, a CAP agency, a faith-based organization, a local health departments, volunteer fire departments, etc. and want to apply for a grant up to $5,000 to help fund a community assister, click here for a copy of the grant application.