Kids and Families Take Over the Capitol
What a great week at the Capitol! On Tuesday, the WVCBP joined hundreds of kids and families to support the Our Kids Our Future platform which includes raising the minimum wage, creating a Future Fund and promoting physical activity in school.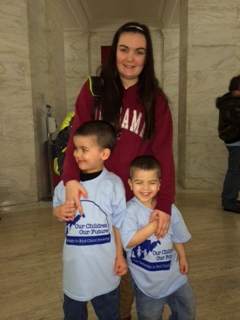 The momentum continues and if you couldn't make it to Charleston, chances are there's a regional forum coming to a town near you. Tomorrow (February 8) come out to the Caperton Center in Clarksburg from 10-12 noon to meet with House Speaker Tim Miley (for more information, contact Lisa Wotring). On Saturday, February 15 meet with legislators at the Commission on Aging in Beckley from 10-12 noon (contact Lee Ann Shreve for more information).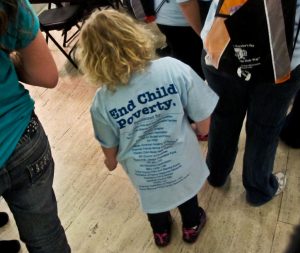 Minimum Wage Bill Advances
Legislation to increase the state's minimum is headed for the House floor after passing out of House Finance yesterday. More on who would benefit from an increase and how the bill was discussed in committee in this week's Charleston Gazette and Beckley Register-Herald.
Even though the proposed increase to the minimum wage will benefit thousands of West Virginians, it won't be a huge hit to the state's employers, raising costs just 0.3%. Get the facts and figures in Sean's blog post.
Future Fund Bill Passes Out of First Committee
Also at the Capitol this week, the bill which would create a Future Fund in West Virginia was voted out of the Senate Economic Development Committee. Read Ted's comments when called upon by legislators to explain revenue projections in the Fund's first years in this week's Charleston Daily Mail.
War on the Poor
Want to know why the Our Children Our Future campaign, a higher minimum wage and a Future Fund are important to struggling West Virginia families? Check out this two-minute video by Robert Reich which explains the decades-long War on Poor and Working Families. He even alludes to West Virginia's January 9 chemical spill towards the end.
What Would You Do With $360 Million
When lawmakers decided to give tax breaks to businesses and corporations and to eliminate the food tax, they cost the state $360 million a year in revenue. There are a lot of things they could have done with that money and one would have been free in-state tuition at all two- and four-year colleges and universities in the state, with millions left over. Read the details here.
With each week comes another story about the state's budget short-falls and how agencies need to tighten their belts. How long will it be before the state budget makes up for the tax cuts? Find out in Sean's blog post.
Speaking of budgets, when it comes to budget forecasting, West Virginia ranks among the lowest nationally. This week the Center on Budget and Policy Priorities released its report, Budgeting for the Future: Fiscal Planning Tools Can Show the Way, which graded West Virginia on how it plans for its fiscal future. The ongoing recommendation from the WVCBP is creation of a state legislative fiscal office which would go a long way toward ensuring fiscal note accuracy and transparency as well as providing nonpartisan analysis on the effectiveness (or not) of tax cuts.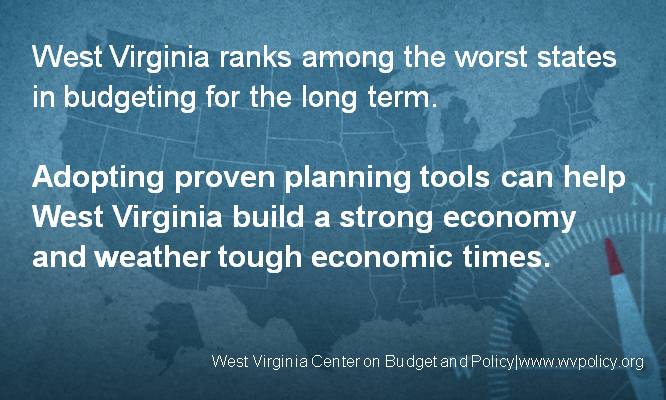 Coal Benefits from Tax Cuts
The coal industry provides employment and pays taxes in West Virginia but we hear little about what it costs the state. For an interesting perspective on the downside to the state's relationship to the coal industry and the handouts it receives, check out Ted's interview with SNL Financial.