Children in Poverty
Along with the WV Healthy Kids and Families Coalition, this week the WVCBP released the report Children in Poverty: A Growing and Persistent Problem. With one in four West Virginia children living in poverty, the issue is getting much-needed attention right at the beginning of the 2013 Legislative Session with the Senate Select Committee on Children and Poverty meeting for the first time this week (and every Wednesday during the session) and Children's Day taking place on Tuesday, February 26 at the state Capitol.
West Virginia has markedly decreased the poverty rates of its senior citizens so we know that it is possible to make positive change. Doing so for children would have life-long impacts including reducing their rates of teen pregnancy, high school drop-outs, obesity and crime, and help to break the cycle of generation after generation living in poverty.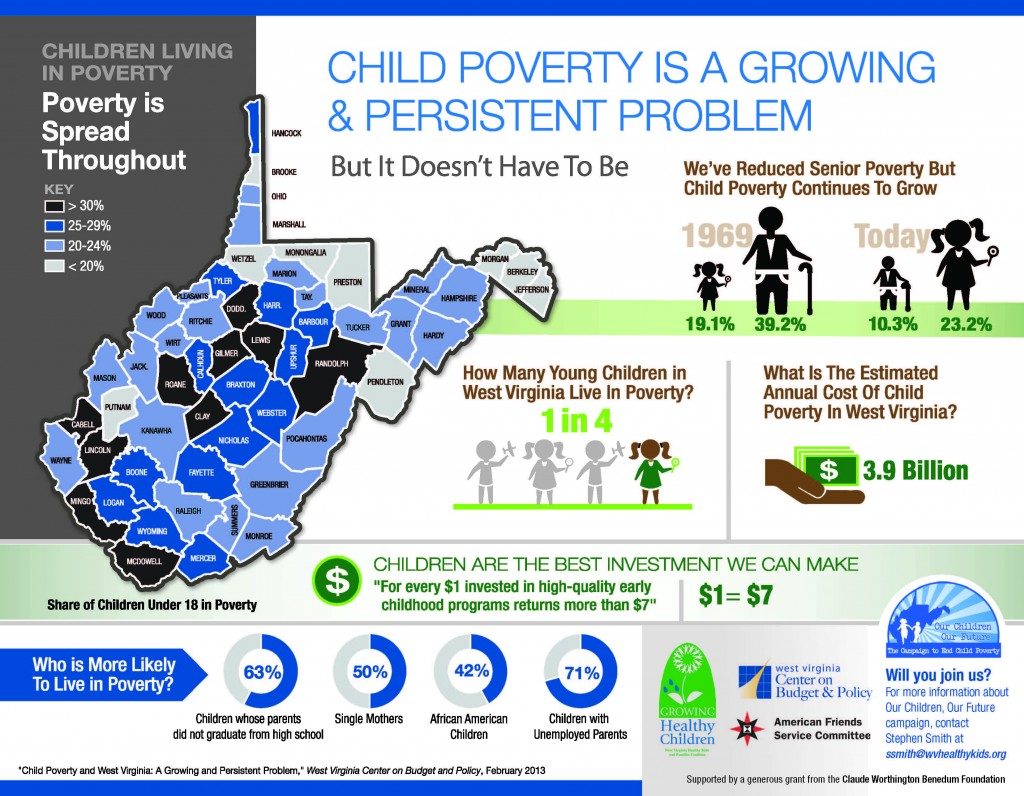 WVCBP in the News
The release of this week's report was covered statewide by the Charleston Gazette, the Charleston Daily Mail and West Virginia Public News Service. Ted presented the report's findings at the Worth Our Care symposium in Charleston on Tuesday.
Flexing his home-rule muscle, Charleston Mayor Danny Jones wants to raise taxes to pay for renovations of the city's Civic Center. While improving infrastructure is important, how to pay for it needs to be carefully thought out. The Charleston Gazette ran this article on the issue.
Another issue promising to make headlines this session is the WV Future Fund. Legislation was introduced last week by Senate President Jeff Kessler and Ted blogged about the resource "curse" this week.
Ted also put together information on Mayor Danny Jones' proposal to raise taxes to pay for the Civic Center and what his ideas mean to low- and middle-income families who are likely to take the brunt.
Next Week's Budget Hearings
Look for our analysis of Governor Tomblin's FY 2014 budget in next week's Budget Beat
Monday, February 25
House: Senior Services at 2PM
Senate: State Treasurer at 3PM, Public Service Commission at 3:45PM
Tuesday, February 26
House: Treasurer's Office at 9AM, Military Affairs and Public Safety at 1PM
Senate: Department of Health and Human Resources at 3PM
Wednesday, February 27
Senate: Supreme Court of Appeals at 3PM
Thursday, February 28
House: Lottery Commission at 9AM, Department of Revenue at 1PM
Senate: Department of Education at 9:30AM, School Building Authority at 3PM
Friday, March 1
House: Department of Health and Human Resources at 9AM