"Gravitation is not responsible for people falling in love." -Albert Einstein
House of Delegates Passes Minimum Wage Hike
This week the House of Delegates passed legislation to increase the state's minimum wage to $8.75 an hour from $7.25 an hour. The increase will be phased in with the full amount taking effect on January 1, 2016. Here's more on the landslide vote in this week's Charleston Daily Mail.
The increase will affect over 127,000 West Virginia workers. How far would the minimum wage go in paying for your living expenses? Find out with this calculator.
The average age for a minimum wage worker in West Virgina is 35 years old. Who else works for minimum wage? Find out in Sean's blog post.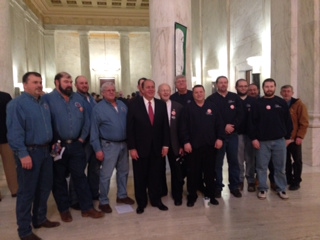 Governor Earl Ray Tomblin stands with union workersin support of a raise to the state's minimum wage on 2/12/14.
More Love for West Virginia's Workers
Another boost for West Virginia workers took place in the House of Delegates this week when the bill that would create a work sharing program passed unanimously out of the House Judiciary Committee.
Work Sharing, or the Valued Employee Retention Program, would help employers hold onto employees during economic downturns. 24 other states already have work sharing programs in place. Work sharing gives businesses the option of reducing the hours and wages of their employees instead of laying them off. Workers with reduced wages and hours are then eligible for partial unemployment benefits to help make up their lost wages. Read more in in this WVCBP report.
Another policy long-supported by the WVCBP passed out of committee. The Voluntary Retirement Account (VRA) bill was moved out of House Pensions this week and, if adopted, would help address the lack of retirement savings and job-based pensions in West Virginia. Read more in this WVCBP report.
(How) Will West Virginia Recover from Water Crisis?
As area businesses work to recover from the January 9 chemical spill, they are faced with how to attract visitors back to the area. WVCBP Executive Director Ted Boettner was included in this Charleston Gazette article giving input from community leaders on the spill's long-term impacts.
State Tobacco Tax Among Lowest/Smoking Rate Among Highest
West Virginia hasn't raised its tobacco tax since 2003. Raising it by $1/pack would not only bring the state up to the national average, but help decrease the state's high smoking rate while bringing in $130 million in new revenue each year. Read more in Brandon's blog post about how raising the tobacco tax is a win-win for West Virginia's health and wealth.

"I don't understand why Cupid was chosen to represent Valentine's Day. When I think about romance, the last thing on my mind is a short, chubby toddler coming at me with a weapon." – Unknown