WVCBP in the News
The Charleston Daily Mail's article about how nearly half of all West Virginian's don't have a savings safety net included quotes from WVCBP staff and board members and capped off a week of discussion about the status of low-income families in West Virginia. West Virginia Public News Service also covered the issue this week in a story including quotes from WVCBP Policy Analyst Stuart Frazier on the number of West Virginians who depend on low-paying jobs.
To help families save for those rainy days, West Virginia could eliminate the asset test it requires when low-income families apply for financial assistance. This has been an idea long-supported by the WVCBP and one covered in a Charleston Gazette article this week.
Low-Income West Virginians Paying More Than Their Share
Helping to bring the topic of poverty to the headlines this week was the coreleased report on Wednesday with the Institute on Taxation and Economic Policy (ITEP) and the WVCBP called "Who Pays?" The graph below, from ITEP's report, shows how low- and middle-income families are paying more than wealthier families in state and local taxes in West Virginia.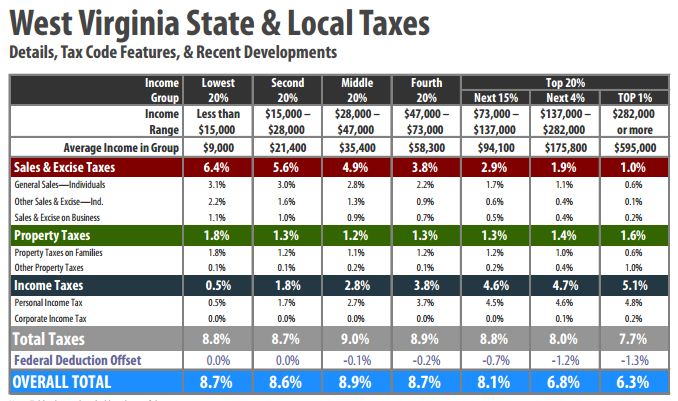 Blog Wrap-Up
West Virginia ranks highly in terms of home ownership but this might not be as good as it sounds. Ted's blog post this week gives the whole story.
Education reform is on Governor Tomblin's to-do list for the upcoming legislative session. There are ways to improve the system go beyond audits and saving money through program cuts. Read about three of them in Sean's blog post.
Speaking of education, what about higher ed and West Virginia's support of students seeking college degrees? Unfortunately, over the past 10 years, even though tuition has gone up and enrollment has risen, West Virginia's support to higher education has decreased. The result has been a larger debt for the state's college graduates. With a week that saw students speaking out against proposed cuts, hopefully lawmakers will decide against further cut-backs as they take up the governor's legislative agenda. Read more in Sean's blog post.