Thank You for Voting! Future Fund and Higher Minimum Wage Make the Top Five
This week many of you voted on the issues you want the Our Children Our Future campaign to focus on during the 2014 Legislative Session. Two of the WVCBP's major initiatives, Increasing the Minimum Wage and Creating a Future Fund, made it into the top five! Please take this next easy step and let your legislators know that you support the OCOF campaign's efforts.
West Virginia One of Few That Will Experience Budget Cuts
West Virginia is one of just seven states facing budget cuts this year. While most states' economies are recovering from the Great Recession, West Virginia is now paying for tax cuts of the past through reductions in funding for important programs like higher education. Read more in Sean's blog post.
Want to Know More About What Budget Cuts Will Mean This Year? ~ Budget Breakfast – January 22, 2014
Want to know more about how the governor's budget will impact you and the work you do? What lies ahead as across-the-board budget cuts seem likely again this year? Join us on Wednesday, January 22 from 8AM-9AM for the WVCBP's first Budget Breakfast. Ted will break through the jargon and explain how changes to the budget will affect programs crucial to low- and middle-income families. Save the date – registration information will be sent to you soon!
Helping Appalachia Transition
At the Shaping Our Appalachian Transition (SOAR) conference last week in Kentucky many ideas were discussed on how to help the region plan for the years ahead. SOAR was started by Kentucky Congressman Harold Rogers and Governor Steve Beshear who appointed more than 40 business and education leaders to guide the initiative. The conference was a chance for others to offer their ideas. Sessions were held on tourism, entrepreneurship and other issues. The idea of a Future Fund was discussed, along with other ideas. The WVCBP has advocated this approach before, including as a recommendation in State of Working West Virginia 2012 – In Depth: the Gas Boom and Coal Bust. Creating a taskforce in West Virginia of economic development leaders, along with other community partners, could help pave the way for a smooth transition as the coal industry's economic dominance subsides.
Free Movie – Inequality for All – January 14, 2014
The WVCBP, along with many sponsors, is proud to bring "Inequality for All" to the Culture Center on January 14, 2014. Please plan to attend this free screening and discussion on how the widening income gap is hurting the nation's economy and its workers.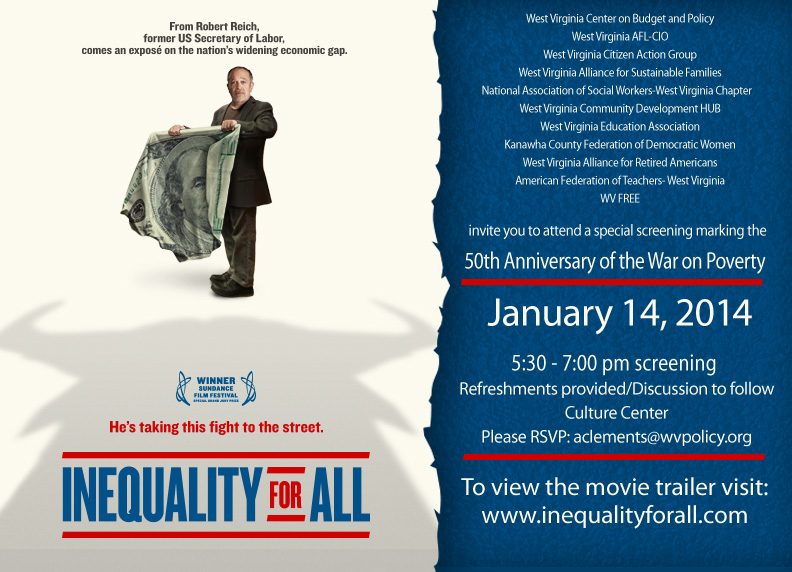 Happy Holidays from All of Us at the WVCBP!
Photo from our holiday dinner: Sean (with Liam), Brandon (with Lucia), Ted (with Lucy)