Budget Breakfast: Register Today to Take Advantage of Discount!
Join us for the next Budget Breakfast on Wednesday, January 21 at the Four Points Sheraton, downtown Charleston. Please register by 12/31/14 to get the Early Bird discount!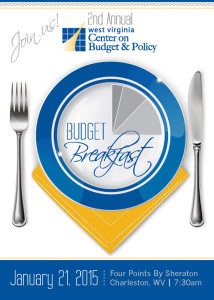 Join Us to Announce the 2015 Our Children Our Future Platform
Monday's forecast is beautiful! Join us during your lunch hour as the Our Children Our Future Campaign to End Child Poverty in West Virginia releases its top priorities for the coming legislative session.
Monday, December 15 at 12:30PM, Governor's Conference Room, Secretary of State's Office, State Capitol.
The press conference will include statements by families directly impacted by state policies.
Safe Water System Leadership Training
It is a year after the water crisis, and little progress has been made towards an improved water system. WV American Water has not taken any steps to fix its infrastructure, and the Public Service Commission's investigation has been delayed.
Advocates for a Safe Water System (ASWS) is building an organized base of citizen leaders to push for the changes needed in our water system.
More than 120 people attended the ASWS safe water system panel discussion and community conversation in November. Join them for a January leadership training to turn what was learned at that forum into action. (You are welcome to join even if you were not about to attend the November meeting.)
Saturday, Jan 17th, 9am-1pm (lunch provided)
St. Marks United Methodist Church (900 Washington St E., Charleston)
Please register to reserve your lunch!