No Matter Where They Live, Women In Unions Earn More
To commemorate Women's Equality Day and the anniversary of the ratification of the 19th Amendment granting women the right to vote, this week the Institute for Women's Policy Research (IWPR) released a new report on women in unions. The report found that women in unions earn more than women who are not in a union. This holds true in every state including West Virginia.
According to the study, women in unions earn an average of $212, or 30.9%, more per week than women in nonunion jobs.
Here's more in Sean's blog post.
How Much Does it Take to Make Ends Meet in West Virginia?
A new Family Budget calculator from the Economic Policy Institute shows that a two-parent family with two children living in rural West Virginia needs $61,579 to get by and afford basic expenses. That same family earning the state's minimum wage earns just $33,280.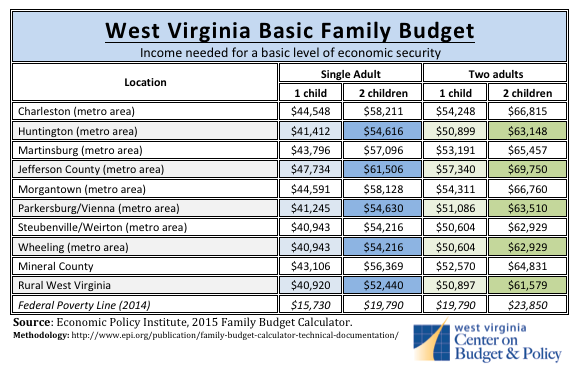 Enacting a refundable West Virginia Earned Income Tax Credit (EITC) would give a boost to these families by putting more money in their pockets to pay for basic necessities. It would also improve our state's upside-down tax system and help create more jobs in its rural areas.
Read more in Ted's blog post.

Jennifer Thacker, Executive Director of the WV Alliance for Sustainable Families,and WVCBP board member, takes the state EITC message on the road this week.
National Headlines: West Virginia Only State to Lose Jobs in July
Having the highest unemployment rate in the nation garnered West Virginia national attention in recent days.
The Wall Street Journal reported last week how falling energy prices are impacting the state's coal industry. The effect of cheap natural gas on the coal industry was also cited in the Atlanta Journal-Constitution this week.
WVCBP Executive Director Ted Boettner was quoted in both articles, here in the Journal-Constitution: "People want cleaner energy, but the coal industry just doesn't know how to pivot and produce a cleaner product. Many of West Virginia's remaining coal seams are also thinning out, making it harder to produce coal at a competitive price."
Federal assistance could help struggling coal communities through President Obama's proposed Power Plus Plan. The plan would provide $20 million to retrain laid-off coal miners and $25 million to the Appalachian Regional Commission to assist those communities in making an economic transition to new technologies.
For more on West Virginia's jobs crisis, and which employment sectors are being hit the hardest, read Ted's blog post from this week.
Black Students in West Virginia Disproportionately Punished at School
A study this week from the University of Pennsylvania's Center for the Study of Race and Equity in Education found that 13 southern states, including West Virginia, had more than half of all suspensions of black students in the nation.
Here's more in this week's Charleston Gazette-Mail.
West Virginia Health Impact Assessments Meeting
Help create healthier, wealthier and wiser Communities! Find out how you can utilize Health Impact Assessments to assess population health during the decision-making process about a broad range of public policies, programs and projects before they are implemented on September 3 in Charleston from 9:00 AM to noon.
Registration Open for Our Children Our Future Policy Summit!
Join West Virginians from across the state on September 14 and 15 to lead policy strategy sessions on 27 issues affecting kids and families. This event is an opportunity for citizens to learn more about policy efforts throughout their communities, engage with their elected officials and interact with dozens of policy organizations!
Register here.