Legislature Gives Glimpse Into its Ideas for Tax Reform
Tax Reform Committee Holds First Meeting
It's been a taxing week, so to speak, between April 15 and the first meeting of the Joint Senate Select Committee on Tax Reform on Monday.
The meeting was the public's first chance to get a glimpse into the new Republican leadership's ideas of how to reform the state's tax code. There was a lot of discussion about further tax cuts, or even the elimination of the Personal Income Tax.
The Personal Income Tax makes up a large percentage of the state's $4 billion+ budget, about 40% of revenue in 2016. Eliminating it would leave a huge hole in the state's ability to pay for important expenses like highway maintenance and funding for higher education.
One suggestion from the legislature on how to fill that hole is to increase the state's sales tax, including establishing a tax on personal services from accountants and lawyers to hair stylists.
While this would create much-needed revenue, it would further shift the state's tax burden onto those least likely to afford it. Poor people pay a larger share of their income toward sales tax than the wealthy, thus further shifting the overall tax base onto low-income families.
For a great look at the history of tax reform in West Virginia, and its dismal impact on creating jobs, check out Sean's blog post.
For more on Monday's Tax Reform Committee meeting, read this week's Charleston Gazette and State Journal, or listen in to West Virginia Public Broadcasting.
For more, here's Sean's presentation from this week's National Association of Social Workers, WV Spring Conference.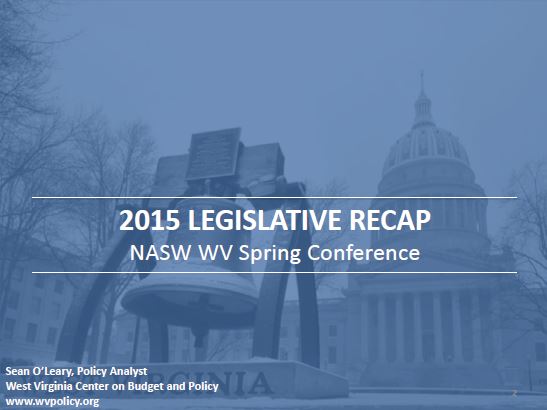 Suggestions Made and Caution Urged
There was widespread reaction to the reforms suggested by the Tax Reform Committee. Governor Tomblin asked legislators to be "fiscally responsible" and the WVCBP suggested proceeding with caution, while using this opportunity to make the tax system more fair to working families.
Time to Modernize West Virginia's Excess Acreage Tax
An idea considered by Governor Underwood's Commission on Fair Taxation would have increased and overhauled the Excess Acreage Tax. This could incentivize economic development in West Virginia, particularly in the southern part of the state. More details in Ted's blog post.
Dear White People at WV International Film Festival
The West Virginia Film Festival kicks off tonight at the LaBelle Theater in South Charleston with lots of great films. Come out and watch Dear White People on Tuesday, April 21 at 6PM to be followed by discussion on racial equity with participants of the Race Matters in WV project.

Become a Mentor to Someone in Need
Help KISRA (the Kanawha Institute for Social Research and Action) provide a second chance for someone in need by joining its mentor program. KISRA's second chance mentoring program is designed to help non-violent offenders reclaim their place in the community, stabilize their lives and achieve self-sufficiency. Apply here.