Infants and birthing parents are dying at alarming rates in West Virginia. Infant and maternal mortality rates are essential statistics measuring overall societal health. In particular, the disparities in life outcomes between Black and white babies and mothers raise questions about health equity and the ability of our health care system to respond to both babies' and mothers' needs meaningfully. Existing gaps in the available relevant data, especially on the state level, limits experts' capacity to make policy recommendations that appropriately respond to this critical issue. Meanwhile, West Virginians continue to die often preventable deaths. The Mountain State must address the issues of infant and maternal mortality immediately, which includes producing nuanced data and implementing evidence-based policies. It is a matter of life or death.
Infant Mortality in West Virginia
The infant mortality rate measures the number of deaths in children under a year old per 1,000 live births. Between 2014 and 2017 (the most recent multi-year data available in the state), West Virginia's infant mortality rate was 7.2 deaths per 1,000, outpacing the national rate of 5.9 deaths per 1,000. When controlling for race, the state's white infant mortality rate was only 6.8 deaths per 1,000, while the Black infant mortality rate was 13.7 deaths per 1,000 over the same period. Plainly stated, Black babies in the Mountain State were twice as likely as their white peers to die in their first year.
The infant mortality rate has decreased over the past several decades, but racial disparities persist despite health care advancements. Some leading causes of infant mortality include low birth weight, birth defects, maternal health complications, and sudden infant death syndrome (SIDS). High-quality pre- and post-natal care can be crucial in mitigating these factors contributing to infant death and improving outcomes significantly. However, a lack of access to health care is a pervasive issue for many West Virginians, especially for Black folks in rural parts of the state.
In 2019, the Black uninsured rate was 10.1 percent in West Virginia, two percentage points higher than the white uninsured rate. In several rural counties, the Black uninsured rate was over 20 percent. Even with health insurance, many struggle to find adequate care within their communities.
Further, evidence shows that the doctor-patient relationship plays a significant role in life outcomes for Black infants. Racial bias and structural racism in the health care system shape how Black mothers and infants receive care. A study published in the Proceedings of the National Academy of Sciences found a positive correlation between having a Black doctor and Black infants' survival rate. Though the data has limitations, this study found that being cared for by a Black doctor correlated with a nearly 50 percent decrease in Black newborns' mortality rate. Existing health policy fails to challenge and address racial disparities despite ample evidence outlining its significant role in Black babies' survival rate.
Maternal Mortality in West Virginia
The maternal mortality rate measures the number of maternal deaths related to or aggravated by pregnancy per 100,000 live births. Between 2014 and 2019, the maternal mortality rate in the US was 17.3 deaths per 100,000. During that period, West Virginia reported 14 deaths per 100,000. Though the state reports a figure slightly lower than the national average, much relevant data is missing, making it impossible to fully understand how pervasive the issue is in various communities. Notably, this state data is not broken down by race, so researchers must rely on inferences from national data and anecdotal state evidence.
Between 2017 and 2019, the US reported 14.1 white maternal deaths per 100,000. Black women faced a mortality rate nearly three times as high, with 39.9 Black maternal deaths per 100,000. This racial disparity has existed for decades. Even when controlling for educational attainment and income, Black mothers are nearly three times more likely to die within a year of childbirth than their white peers. This severe gap is harrowing and indicative of deeply ingrained racial and structural problems that no level of access to care has meaningfully addressed thus far.
Without more detailed data, it is impossible to precisely understand maternal mortality trends in West Virginia and how significantly Black and other minority mothers are harmed by the problem. While we lack some state-level data, the racial disparities in infant and maternal deaths in our state and around the country are undeniable. Eliminating these racial inequities requires advocates, government leaders, and those most impacted to come together to demand an explanation for the missing data and put forth community-rooted ideas for solutions.
Read Rhonda's full blog post.
If you are a community member who wants to get involved in addressing these dual crises, please register for our webinar on July 21 to learn more about how you can contribute to some burgeoning advocacy and research efforts.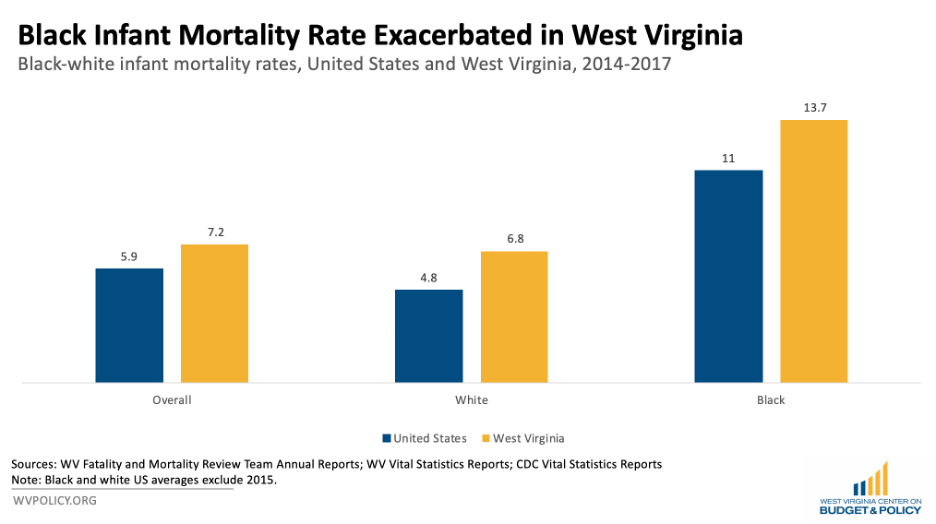 Don't Hold West Virginians Hostage: Pass a Clean Debt Ceiling Increase
Congress is currently negotiating an increase in the "debt ceiling," which must be raised to prevent catastrophic economic consequences.
Previously Congress has always acted when called upon to raise the debt limit. Since 1960, Congress has acted 78 separate times to permanently raise, temporarily extend, or revise the definition of the debt limit – 49 times under Republican presidents and 29 times under Democratic presidents. Congressional leaders in both parties have recognized that this is necessary.
But now, Republican lawmakers are seeking to hold critical public programs–and the U.S. economy–hostage by trying to extract painful cuts in exchange for raising the debt ceiling. This would have hugely harmful impacts on West Virginians who rely on Medicaid, SNAP, TANF, and other programs.
Take action today to urge our U.S. Senators to pass a clean debt ceiling increase without cuts to critical programs. You can send them a message here.
Learn more about what's at stake in this recent piece from our colleagues at the Center on Budget and Policy Priorities.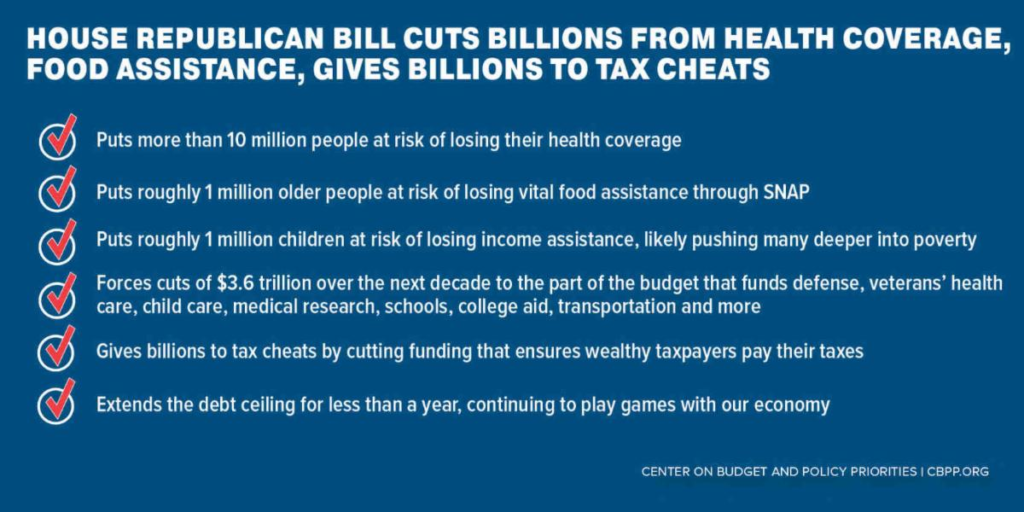 West Virginia Jails Dangerously Overcrowded, Addressing Understaffing Not Enough
The understaffing crisis plaguing the West Virginia jail system has received much attention in recent months. While staffing vacancies cannot be ignored, addressing understaffing alone will not get to the root of the state's incarceration crisis. Instead, the state must work to address its violent and inequitable overreliance on incarceration which has led to dangerously overcrowded conditions in jails throughout the state. A recent article, featuring insight from WVCBP criminal legal reform policy analyst Sara Whitaker, provides further details. Excerpt below:
West Virginia corrections officials were eager to call attention to severe staffing shortages throughout their facilities in a state legislative committee meeting in which other items were on the agenda.
But there was little focus on an issue that has worsened in recent years and exacerbated the state's staffing shortages: overcrowded jails and prisons.
The average sentenced inmate population of 5,630 across West Virginia's prisons and jails in fiscal year 2021 is 43% higher than it was 20 years earlier, according to Division of Corrections and Rehabilitation data. The state's average inmate prison and jail population was just 2,138 in calendar year 1992.
The numbers swell further when accounting for inmates awaiting trial. Including pretrial inmates, the average daily inmate population in the state's regional jails rose by a third from fiscal years 2010 to 2022.
West Virginia's jails are housing more inmates than they were designed to contain.
Of the state's 10 regional jails, seven had adult inmate populations exceeding capacity as of May 1, according to state data. North Central Regional Jail in Doddridge County had 750 inmates — 33% above its capacity of 564.
The frequency of deaths in the state's regional jails has increased sharply in recent months.
Nearly one out of every five of the 177 inmate deaths in those jails since 2009 occurred in 2022 or 2023.
West Virginia's regional jails generally have served pretrial defendants and individuals sentenced to terms of one year or less.
"West Virginia will begin to fix our overcrowded and deadly jails when our policymakers realize they cannot address every social ill with locking people up in cages," American Civil Liberties Union of West Virginia Advocacy Director Eli Baumwell said in an email.
Lockups in West Virginia have increased despite a long-term decrease in violent and property crimes.
The state's violent crime rate per 100,000 residents fell 10% from 1999 to 2019, according to FBI data. The state's property crime rate per 100,000 residents declined 33% over the same span.
"West Virginia is addicted to incarceration," Sara Whitaker, criminal legal policy analyst for the West Virginia Center on Budget and Policy, a progressive think tank, said in an email.
Whitaker says state incarceration levels have escalated over time due to an increasing dependence on wealth-based detention, longer sentences and community supervision programs that are a path to prison.
The U.S. Commission on Civil Rights released a report last year finding a 433% increase in individuals detained pretrial between 1970 and 2015. The report observed over 60% of defendants are detained pretrial because they can't afford to post bail.
Over half of West Virginia jail inmates were awaiting trial as of May 1.
More than three-quarters of inmates who died in state regional jails since 2009 were awaiting trial.
"Jail and prison are inherently cruel," Whitaker said. "Their conditions are made worse from years of overcrowding. The only real way to improve the conditions in West Virginia jails is to house fewer people in them."
Read the full article.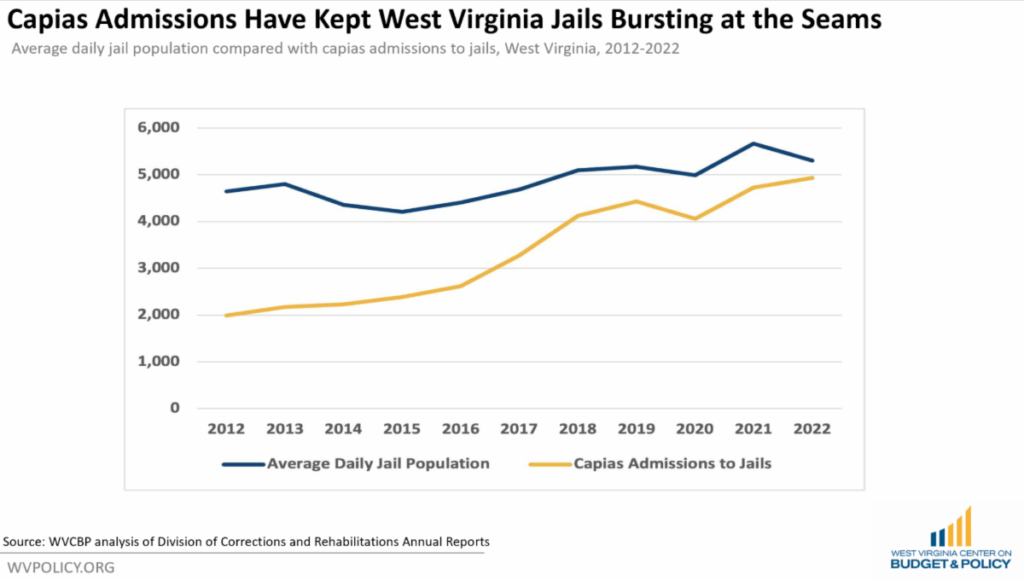 Disinvestment has Cost Our Colleges and Universities
As a result of previous tax cuts and resulting austerity measures, funding for public services in West Virginia has declined over the last decade.
Since 2012, state higher education funding is down by 26 percent, adjusting for inflation. This has had real-life consequences for students, families, and the communities where colleges and universities are often the largest employer.
Income tax cuts passed in 2023 could exacerbate the underfunding of West Virginia's colleges and universities, increasing tuition for students even further and costing our communities good jobs.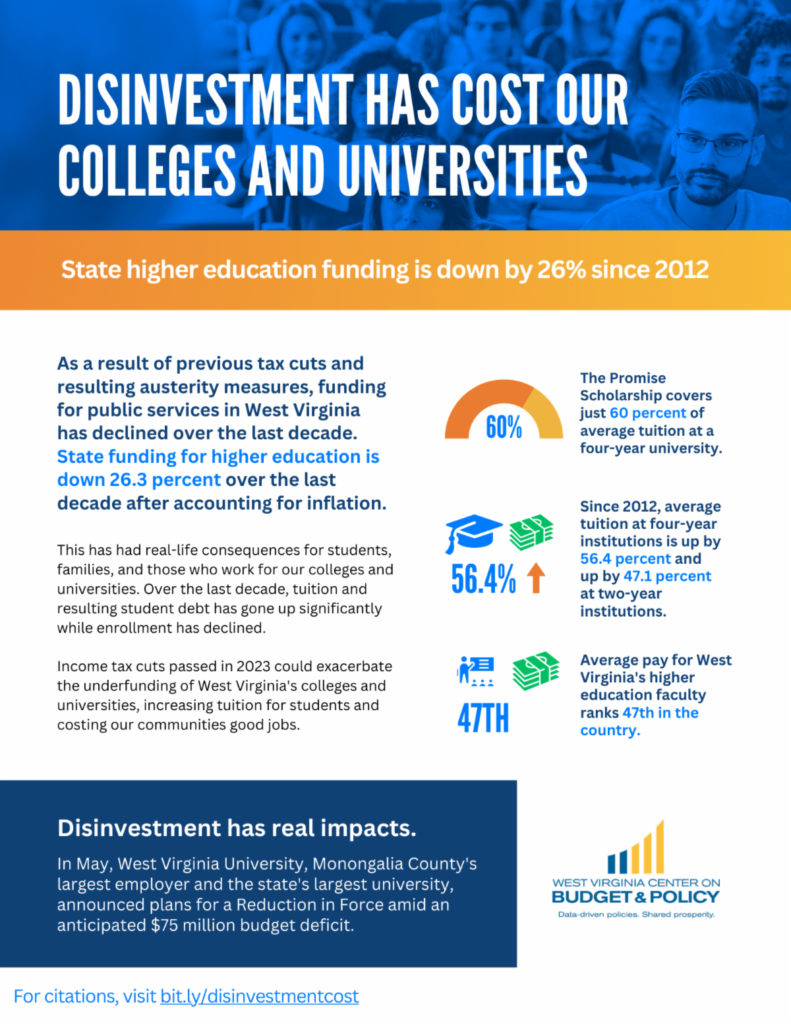 Volunteers Wanted for A Research Study About Birthing Experiences
Dr. Jerica Wesley from Marshall University and Dr. Lauri Andress from Andress & Associates are seeking volunteers for a research study to learn more from West Virginia women and birthing people about their health care experiences. Currently there is little state-level data publicly available about the disparate experiences of birthing people across race. This study seeks to empower West Virginians through the sharing of stories and to gather qualitative data to inform advocates and policymakers.
Contact Dr. Wesley (jerica.wesley@marshall.edu /304-746-1912) or Dr. Andress (landress@bridgingthehealthgap.com /713-553-8192) to participate or for more details.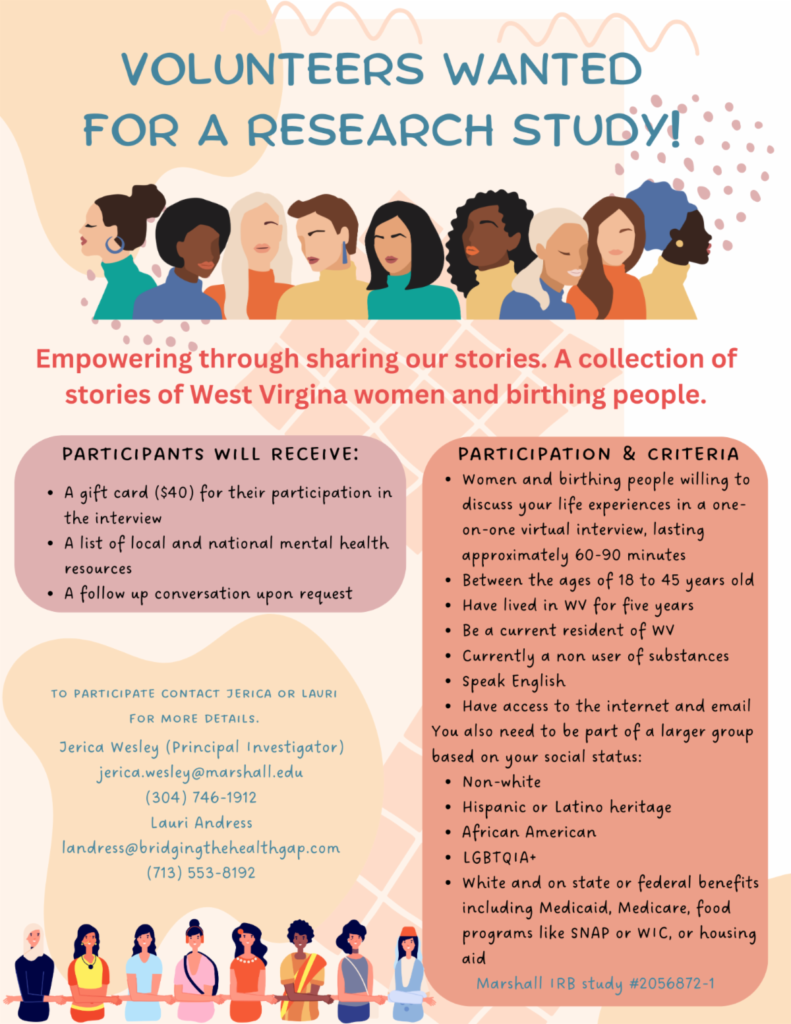 Share Your Medicaid Experience with Us!
The WVCBP's Elevating the Medicaid Enrollment Experience (EMEE) Voices Project seeks to collect stories from West Virginians who have struggled to access Medicaid across the state. Being conducted in partnership with West Virginians for Affordable Health Care, EMEE Voices will gather insight to inform which Medicaid barriers are most pertinent to West Virginians, specifically people of color.
Do you have a Medicaid experience to share? We'd appreciate your insight. Just fill out the contact form on this webpage and we'll reach out to you soon. We look forward to learning from you!
You can watch WVCBP's health policy analyst Rhonda Rogombé and West Virginians for Affordable Health Care's Mariah Plante further break down the project and its goals in this FB Live.