Since its inception in 1965, Medicaid has been one of the most impactful anti-poverty public health initiatives in the United States. Medicaid provides low-income Americans with free or low-cost health insurance, allowing them to receive treatment that may otherwise be inaccessible. The program has expanded significantly since its origin to include more people; today, it serves over 77 million people nationally. As of January 2021, that figure includes nearly 570,000 West Virginians or about one-third of the state population. And of those 570,000 people, 189,000 enrolled between 2013 and 2018 due to the Medicaid expansion permitted by the Affordable Care Act (ACA).
Despite Medicaid's significant accomplishments, many people across the country still do not have access to health care. While legislators have sought several ways of bridging the gap, gridlock at the federal level has put states at the forefront of long-term policy changes that will aid their citizens. One such policy that has bipartisan support in West Virginia is a Medicaid buy-in program. Essentially, a buy-in program allows people to pay to enroll in Medicaid or a Medicaid-like program, utilizing the networks, purchasing power, and structure of the state's existing program.
Anyone could enroll in a buy-in program, but only individuals within a specific income range would be eligible for a subsidy that would offset insurance costs. They would be above the current Medicaid threshold – in West Virginia, above 138 percent of the federal poverty level (FPL) – but below a limit set by the state. Thus far, these state limits range from 200 to 400 percent of the FPL.
Some of the bipartisan popularity that Medicaid buy-in proposals possess could derive from the fact that these programs already exist and are successful in a majority of states. Most states passed legislation allowing buy-ins in the late 1990s and early 2000s. However, they are minimal in their current form. Today 44 states and Washington, DC have a buy-in program for some working individuals with disabilities — and this includes West Virginia. In the Mountain State, people with disabilities whose incomes are between 138 and 250 percent of the FPL qualify for the buy-in program.
There has been a renewed interest in Medicaid buy-in programs in recent years as health care affordability for consumers continues to be of national concern. The Kaiser Family Foundation found that nearly half of uninsured people forwent insurance because of costs. Their analysis also found that churn is another significant barrier. Churn occurs when a change in income moves individuals between Medicaid and the private insurance market. Slight changes in income can trigger the churn effect, making coverage (and subsequently copays, premiums, etc.) difficult for families to plan for. A Medicaid buy-in plan could alleviate this problem by creating a transition, allowing for continuity of care while keeping medical costs low.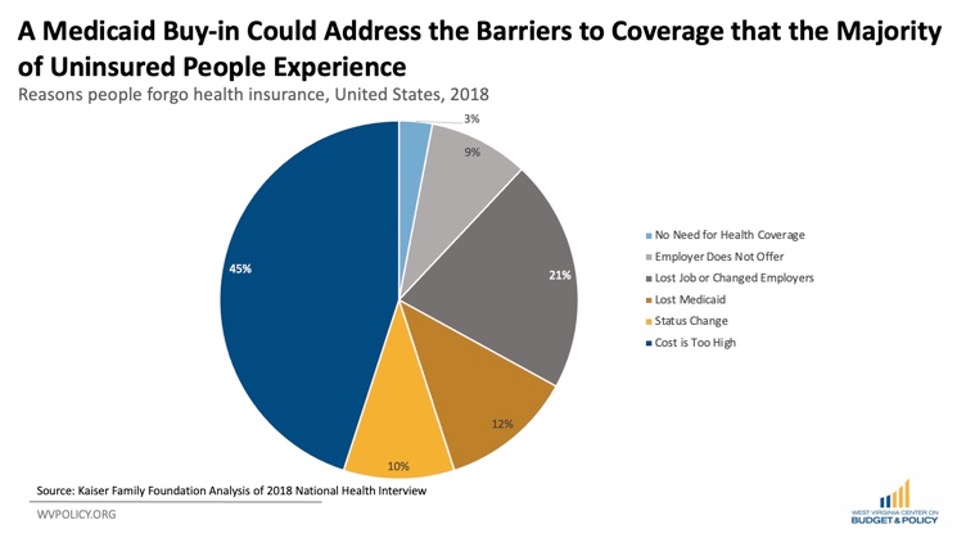 Several states, including Delaware, New Mexico, and Massachusetts, have conducted studies investigating various models for expanding the program to all residents within specific income parameters. Others, including West Virginia, have introduced legislation. A bill introduced in the West Virginia House of Delegates this session with bipartisan support would allow West Virginians up to 200 percent of the FPL to receive subsidies for the program. It would include a range of essential services, from preventive and wellness to emergency, with a small monthly premium.
Enacting a broader Medicaid buy-in program has tremendous implications for public health and wellness across the state. The ACA significantly increased the number of people eligible for Medicaid, and a buy-in program would further build on this expansion. Adding uninsured West Virginians between 138 and 200 percent of the FPL to the state Medicaid program could reach a potential 24,000 people. Furthermore, a Colorado study estimated that nearly eight percent of people already on the individual market would switch over, which would equate to an additional 2,000 people across West Virginia, bringing the total to roughly 26,000.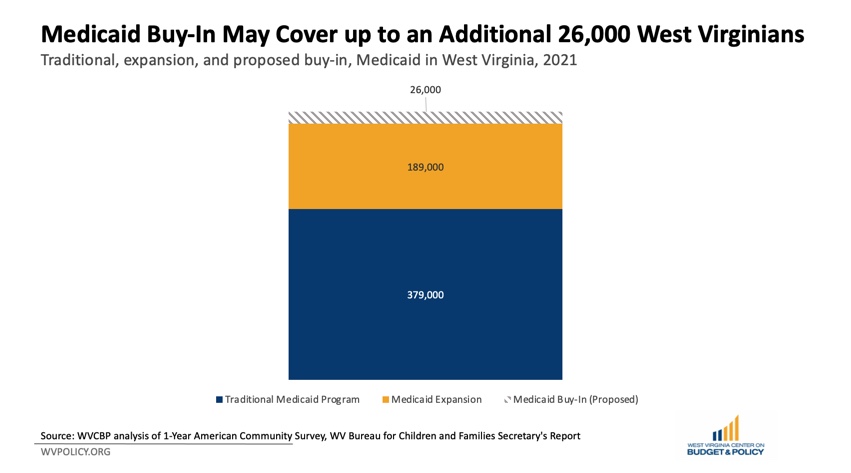 Statewide, this program could mitigate the persistent racial coverage gap, in which Black West Virginians are less likely than the overall population to have health insurance. Currently, 10 percent of Black West Virginians do not have health insurance, compared to about eight percent of their white counterparts.
Implementing a broad Medicaid buy-in would make West Virginia the first state to undertake such a measure. But the prevailing decades-long program for working adults with disabilities – not only in West Virginia but in nearly every state in the US – provides an indisputable and robust case for its potential to scale successfully. The legislation requires that the state apply for a 1332 waiver, which encourages states to utilize innovative public health strategies. Such action would dramatically reduce the cost of the program to the state. The reliability and efficiency of Medicaid buy-in programs contribute to lawmakers' growing interest as states continue to seek budget-friendly ways to provide for their constituents.
West Virginia showed its dedication to public health when it became one of the first states to expand Medicaid. Now the state has a unique opportunity to lead the nation by broadening the current Medicaid buy-in program. By utilizing the existing infrastructure, lawmakers can ensure that West Virginians have access to health care, particularly Black residents. Its low cost to both enrollees and the state makes it an ideal way for lawmakers of both parties to make affordable health care a reality in West Virginia.