With just over a month left in the open enrollment period for the Affordable Care Act, the share of West Virginians without health insurance has already dropped significantly. As of this week, nearly 100,000 West Virginians have enrolled in health coverage through the ACA.  The overwhelming majority of these sign-ups have come through Medicaid expansion, which was always expected to be the case. While we can't say with certainty that none of these folks previously had insurance, it's a very safe bet that most of them did not.  That means that of the approximately 268,000 West Virginians who did not have health insurance last year, about 34 percent of them are covered today thanks to Medicaid.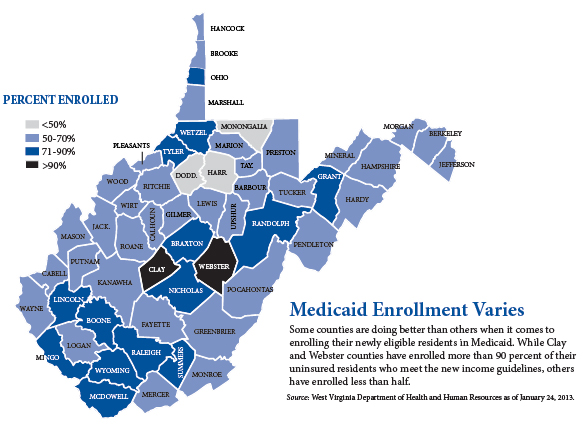 The map above shows the share of those enrolled in Medicaid who are estimated to be income eligible and were previously uninsured by county. Some counties like Clay and Webster have already enrolled over 90 percent of this population, while other counties still have have only enrolled about one-third. For example, the five counties that have signed-up the smallest proportions of their Medicaid eligible populations are all in North Central West Virginia – Monongalia, Doddridge, Harrison, Ritchie, and Marion (Table 1 below).
In addition to Medicaid expansion, there are almost 8,000 people who have enrolled in private health insurance plans through Healthcare.gov, as of February 1st.  Again, we don't know (yet) how many of them were previously insured but the chances of this group having insurance before are much greater since they have significantly higher average incomes than the new Medicaid enrollees.  Even so, 84 percent of them qualified for tax subsidies to help lower the monthly premium.
While official estimates won't be available for some time, thanks to the Affordable Care Act (and Governor Tomblin's decision to expand Medicaid), the number of uninsured West Virginians under 65 may have already dropped from over 18 percent to 12 percent.
Table 1: Percent of Previously Uninsured, Newly Eligible Residents Enrolled in Medicaid, By County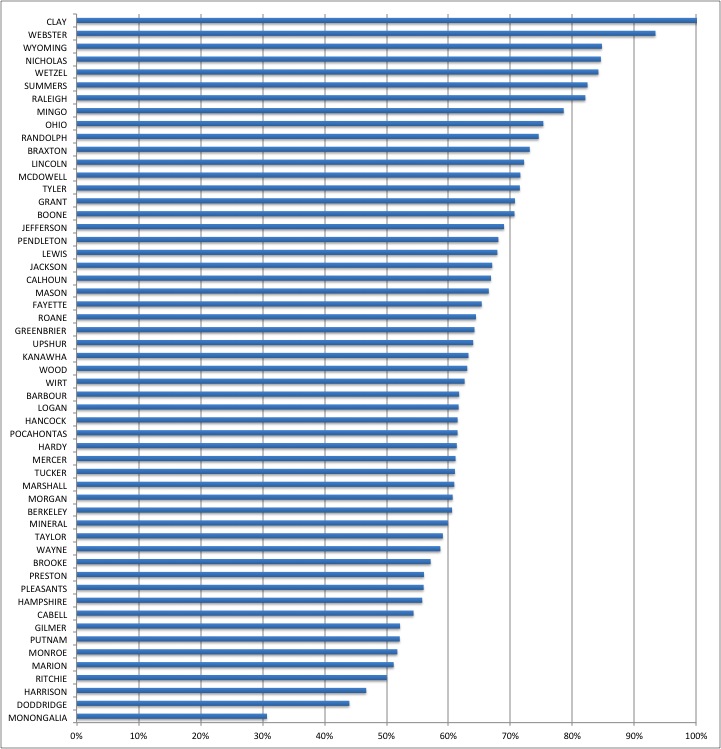 Source: WVDHHR, data as of January 24, 2014