Abortion is and always has been an economic issue. With Roe v. Wade expected to be overturned in the coming weeks, abortion is likely to become even more restricted or altogether banned in West Virginia. Low-income people will suffer the most.
In recent years, West Virginia lawmakers have created a landscape where pregnant people frequently find themselves in perilous health and economic conundrums where abortion is inaccessible at the same time as family, health, and economic supports that make parenting possible are inadequate.
Nationally, half of all people who seek abortions live below the poverty level and 75 percent are low-income, with incomes below 200 percent of the federal poverty line. In addition to having extremely low incomes, they overwhelmingly lack access to family and work supports like paid maternity leave. Further, 59 percent of those seeking abortions already have at least one child and 55 percent report a recent disruptive life event. This data reinforces why poorer people are more likely to seek abortions and how they will be disproportionately impacted by further abortion restrictions or bans.
West Virginia already has nine abortion restrictions in place, including a 20-week ban, a 24-hour waiting period, parental notification requirements, bans on using state Medicaid dollars to fund abortions, and bans on telemedicine administration of abortion medication. Together, these restrictions make abortion incredibly difficult to access. The number of abortions performed in West Virginia was nearly halved between 2010 to 2020. While increased access to birth control through the passage of the Affordable Care Act and the Medicaid expansion likely played a role, the number of abortions continued to decline significantly as abortion restrictions were passed.
West Virginia, and the nation as a whole, also have unacceptably high infant and maternal mortality rates. West Virginia's overall maternal mortality rate is even higher than the national average. In 2017, West Virginia's maternal mortality rate was 21.4 per 100,000 compared with 17.4 per 100,000 nationally. Similarly, the infant mortality rate in West Virginia, 7.02 per 1,000, is higher than the national average that same year of 5.89 per 1,000.
Over the same period that abortion restrictions were enacted at the state level, surprisingly little has been done to increase economic and health security for families and children. West Virginia does not have a paid family and medical leave policy for maternity leave or a state-level Child Tax Credit or Earned Income Tax Credit. The state also has the fourth-largest rate (nearly two-thirds) of families living in child care deserts, where child care is inaccessible for many families. And in areas where child care is accessible, it is often unaffordable, with child care in a center costing more than in-state college tuition for both infants and toddlers.
It remains to be seen how state lawmakers will proceed if given the ability to ban abortion altogether. What's already clear is that current restrictions paired with a lack of family and economic supports are already harming low-income people. State lawmakers should resist the political urge to further attack abortion and instead focus on improving health and economic supports for families
Read Kelly's full blog post.
The WVCBP is grateful for the critical work being done by our colleagues at the Women's Health Center of West Virginia, the state's last remaining abortion clinic. Their services are essential and they treat their patients with dignity and care. With the fall of Roe on the horizon, please consider supporting their work.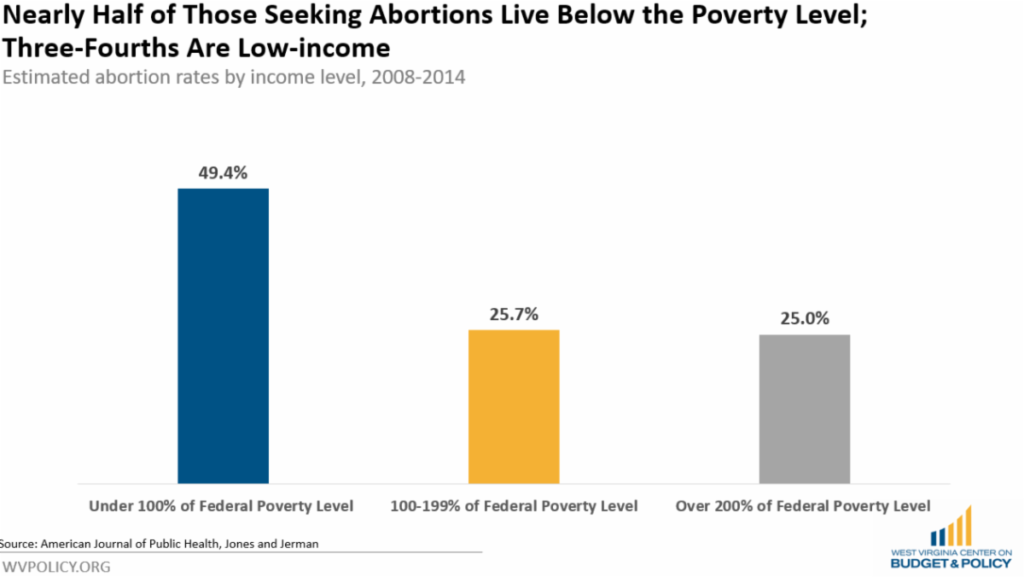 Property Tax Amendment Could Cost Schools and Local Governments $515 Million Annually
If passed, a proposed constitutional amendment would give the state legislature the authority to exempt business machinery and equipment, business inventory, and personal vehicles from property taxation, resulting in a severe loss of revenue for counties and local governments and marking a significant shift in power away from local governments and to state government. A recent article, including insight from WVCBP executive director Kelly Allen, provides further details. Excerpt below:
A property tax amendment on state ballots this fall could lead to an effect of more than $500 million, an association of county officials has concluded.
A working group representing county governments came up with that number. Jonathan Adler, the executive director of the West Virginia Association of Counties, presented the conclusion to state lawmakers at interim meetings this week and then spoke about the financial effect on MetroNews' "Talkline."
In 2021, he said, the total figure for taxes that could be affected by the amendment was $515 million across the state. The conclusion is that future years would reflect a similar figure, if not more.
Of the $515 million, about $340 million flows to local school districts, $138 million to county government services, $35 million to municipal government services and $2 million goes already to state government.
The Kanawha County Commission has discussed the financial effects of the amendment several times recently, expressing concern each time.
"It's bad," President Kent Carper said during last Thursday's commission meeting. "I'm beginning to get a lot of calls now from other county commissions and cities. They're beginning to realize how serious this amendment is."
The West Virginia Center on Budget and Policy think tank has emphasized that passage of the amendment could shift financial power away from local governments to state government "while residents will face the consequences of underfunded local services that could include everything from teacher layoffs to longer emergency response times."
"The testimony we heard from counties this week underscores the huge crisis this amendment, if passed, would create in communities across the state," said Kelly Allen, executive director of the center.
"Voters make decisions to fund local services that we all benefit from, like schools and emergency and fire response, but state legislators have made clear that they want to take control of local decisions away from communities to give a big tax break to mostly out-of-state corporations."
Read the full article.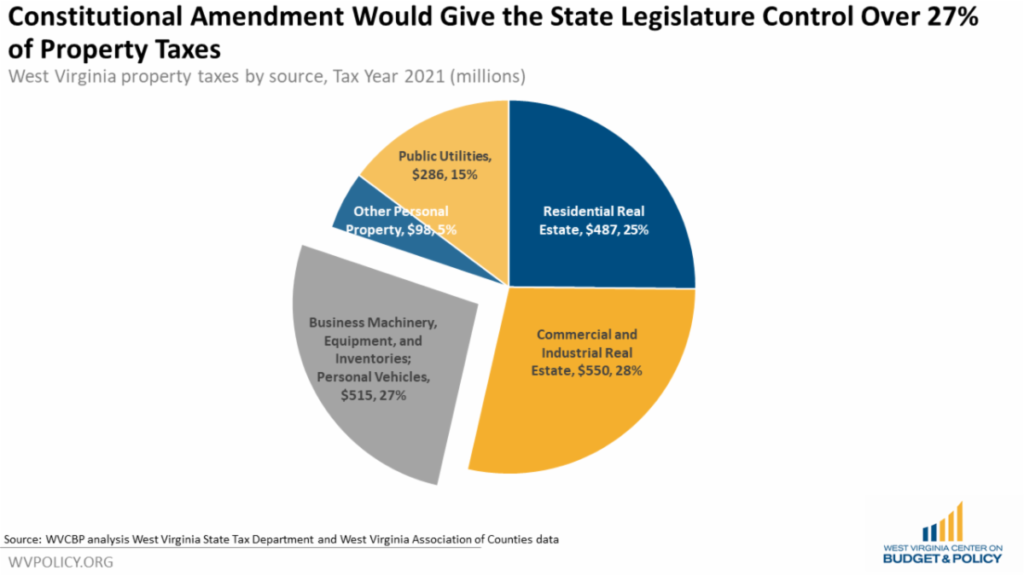 Hope Scholarship Will Divert Hundreds of Millions from WV's Public Education System
The Hope Scholarship provides funding to students leaving West Virginia's public education system. In the first year alone, over 3,000 scholarships have been awarded, costing the state $13.5 million. A recent article includes insight from WVCBP executive director Kelly Allen about the severe financial implications of the scholarship program. Excerpt below:
The Hope Scholarship, created by the state legislature in 2021, allows individual families to use money from the state education system for expenses such as individual classes or extracurricular activities; tuition and fees at participating schools; tutoring (except not by a member of the student's family); fees for national standardized tests; fees for after-school or summer programs; educational services and therapies and more.
Those students entering school for the first time are immediately eligible for the program.
Willard reported Tuesday a total of 3,146 applications have now been approved with a few hundred others still under review. The final scholarship number could grow to 3,600 students. The cost of the program is currently $13.5 million. Each eligible student will receive $4,298.60 in the first year.
Kelly Allen, executive director of the West Virginia Center on Budget and Policy, expressed concern in a MetroNews story earlier this month about the financial effects of the scholarship.
"The program's eligibility is far more broad than similar programs in any other state, even before being opened up to all students in 2026," Allen said. "Over time the Hope Scholarship will grow even costlier, diverting hundreds of millions of dollars from our public education system."
Read the full article.

New Child Tax Credit Proposal Revealed, Includes Strengths and Weaknesses
Beginning in July 2021, most households with children had received monthly enhanced Child Tax Credit (CTC) payments of $250- 300 per child. However, the enhanced CTC included in the American Rescue Plan Act (ARPA) was temporary and expired at the end of 2021.
The impact on children and families since the expiration of the enhanced CTC has been severe. Between Dec. 2021 and Jan. 2022, there was a staggering 41 percent increase in child poverty nationwide due to the loss of the monthly payments. And as inflation continues to exacerbate family financial hardship, the need to make a robust CTC permanent is as urgent as ever.
Last week, a new proposal to expand the CTC was announced. While we are excited to see bipartisan interest in enhancing the credit and while the proposal does improve some elements of the current law, it also has serious shortcomings – primarily, it does not make the full credit available to the lowest-income families (a notable divergence from the now-expired enhanced CTC that was included in the ARPA). Further, it proposes problematic offsets that would prove detrimental to low-income families.
A detailed Twitter thread from our colleagues at the Center on Budget and Policy Priorities provides further insight. You can read it here.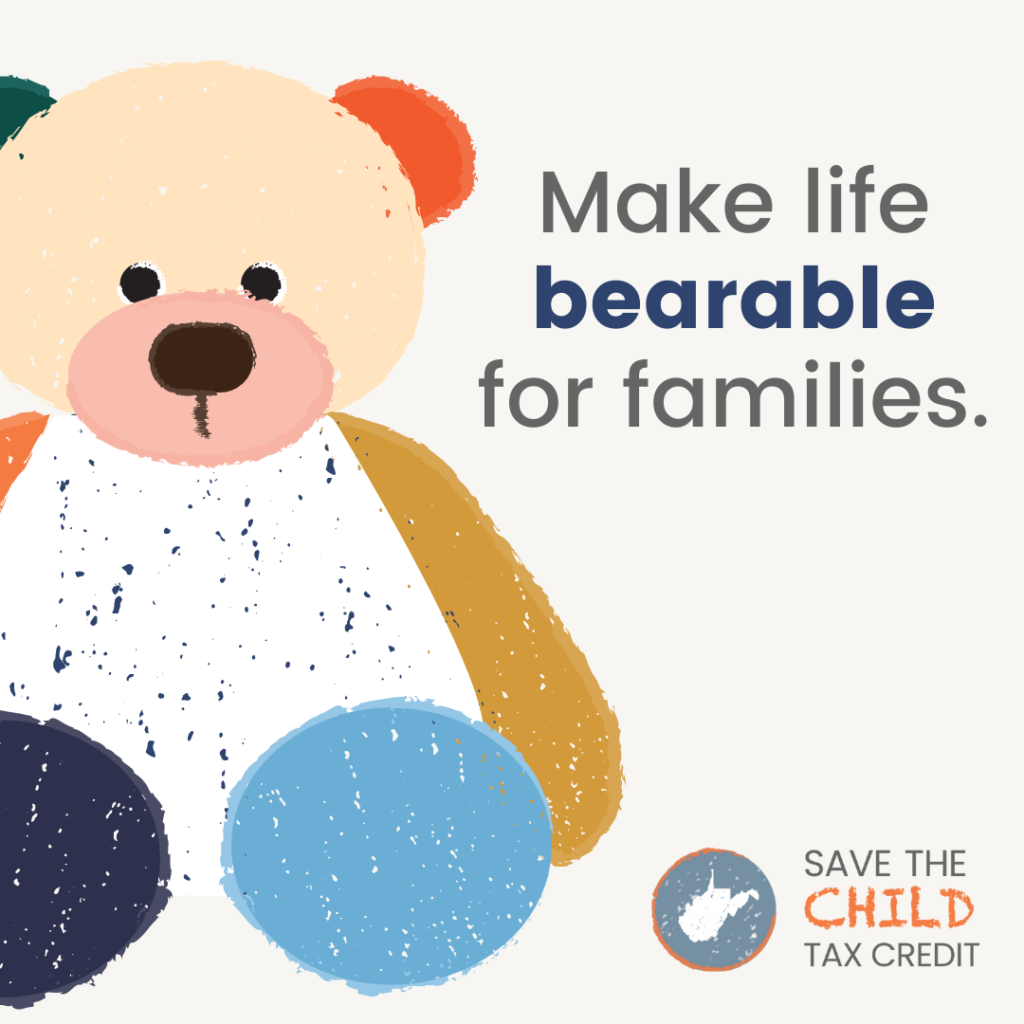 Impacts of Rising Insulin Costs Survey
The costs of insulin continue to rise while income wages remain stagnant, exacerbating pressure on individuals and families to skip or ration insulin doses in order to make ends meet.
You can help us in our fight to urge Congress to take action! If you or your family is being impacted by insulin costs or rationing, please consider completing our survey and aiding us in our advocacy– we appreciate your time and insight.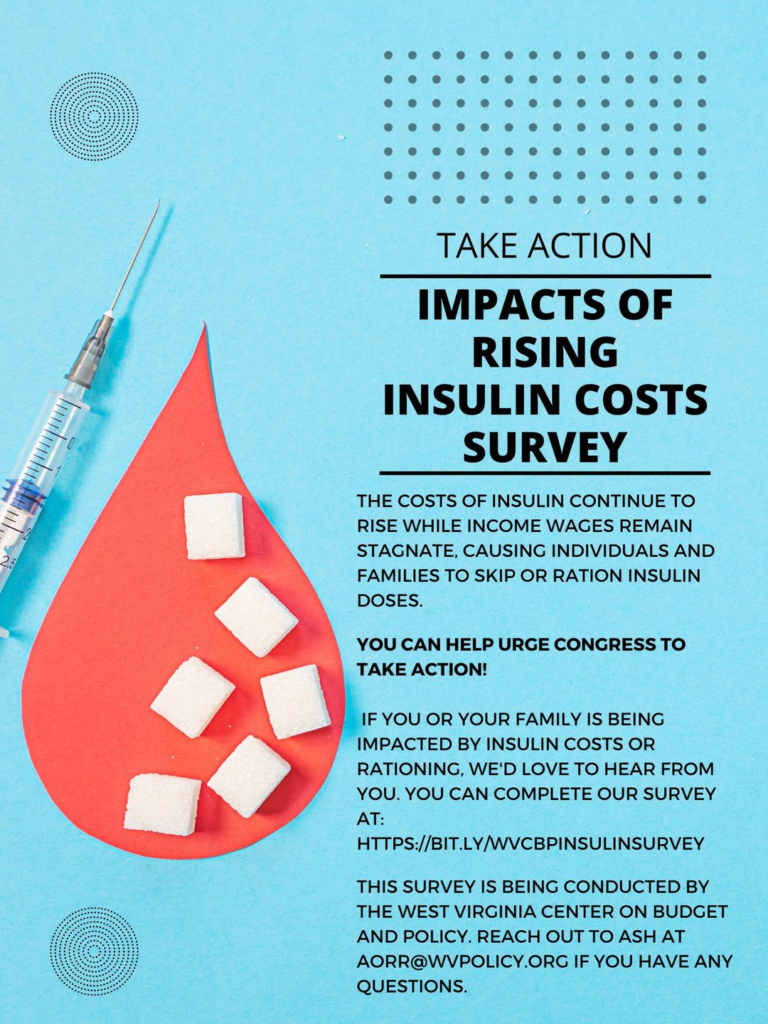 Share Your Medicaid Experience with Us!
The WVCBP's Elevating the Medicaid Enrollment Experience (EMEE) Voices Project seeks to collect stories from West Virginians who have struggled to access Medicaid across the state. Being conducted in partnership with West Virginians for Affordable Health Care, EMEE Voices will gather insight to inform which Medicaid barriers are most pertinent to West Virginians, specifically people of color.
Do you have a Medicaid experience to share? We'd appreciate your insight. Just fill out the contact form on this webpage and we'll reach out to you soon. We look forward to learning from you!
You can watch WVCBP's health policy analyst Rhonda Rogombé and West Virginians for Affordable Health Care's Mariah Plante further break down the project and its goals in this FB Live.