Today Congress passed legislation to fund the federal government for the rest of this fiscal year including making key provisions to the federal Earned Income Tax Credit (EITC) and Child Tax Credit (CTC) permanent.
Yesterday the bill was approved by the House of Representatives with all three of West Virginia's members voting yes. Today the Senate passed it out as well, with Senator Capito voting for, and Senator Manchin voting against, the legislation.
By making key provisions of the EITC and CTC permanent, Congress has prevented up to 16 million Americans-including 8 million children-from falling into or deeper into poverty after 2017 (when the provisions were scheduled to expire).
Learn More About A Tax Credit for Working Families
Join us for a free event to learn more about the economic impacts of a West Virginia Earned Income Tax Credit (EITC).
When: January 11 from 9:30 AM – 2:00 PM
Where: Embassy Suites, downtown Charleston
Who: Financial education practitioners, researchers and stakeholders, including representatives from the Richmond Federal Reserve, Marshall University, the West Virginia legislature and Duke University will discuss the effects of a state EITC on West Virginia's economy and its families.
The event is free and registration is required to reserve lunch.
Why: Gain a better understanding of how a West Virginia EITC could boost local economies while positively impacting families who earn low wages
Sponsored by the West Virginia Alliance for Sustainable Families, the West Virginia HUB, and the West Virginia Center on Budget and Policy.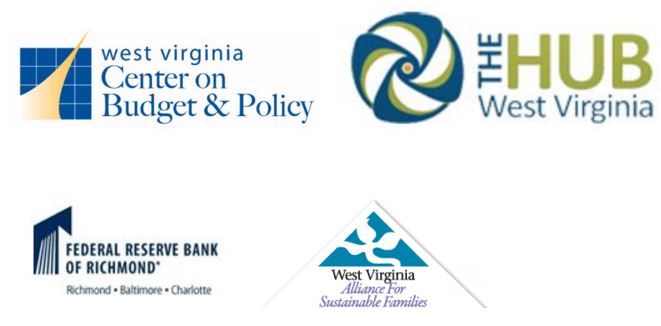 He's Ready for His Close-Up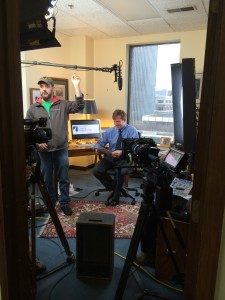 Look for Ted coming to a TV channel near you!
Welcome, Jackie!
Jackie Stalnaker has joined our team as a West Virginia Earned Income Tax Credit (EITC) Fellow. She will be focusing her energy and talents on outreach efforts in the Morgantown area.
Jackie is pursuing her Bachelor of Arts in World Languages at West Virginia University. She is also a literacy volunteer for Monongalia and Preston Counties.
To learn more about our fellowship and internship programs, go here.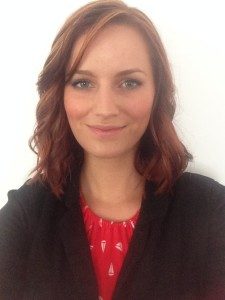 Time is Running Out to Get Your Early Bird Discount for the 2016 Budget Breakfast
Take advantage of the early bird discount for this year's Budget Breakfast by registering today!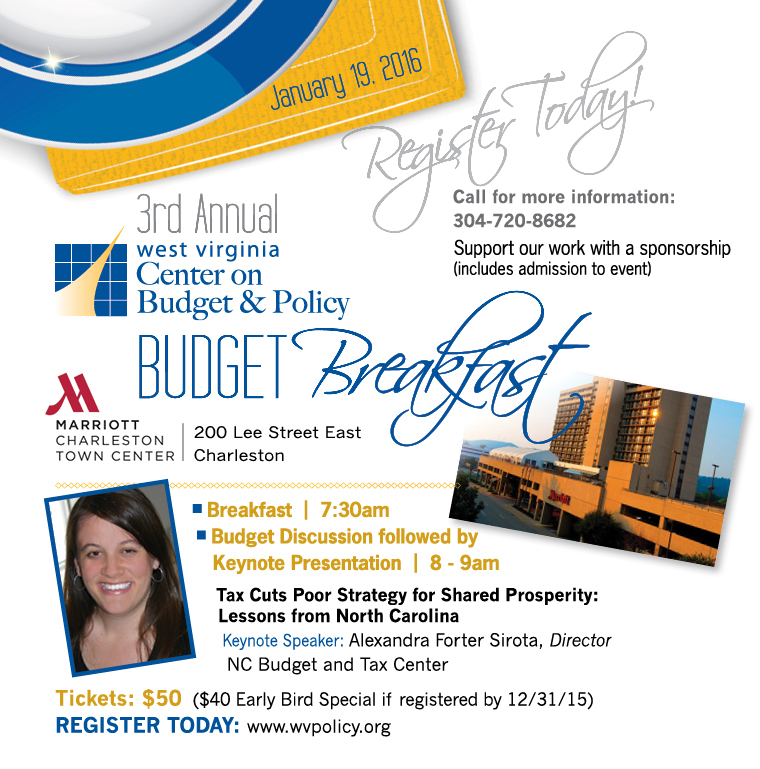 Happy Holidays from all of us at
 the West Virginia Center on Budget and Policy!!
Ted, Sean, Tara, Seth and Linda