Introduction
The Children's Health Insurance Program (CHIP) provides low-cost health coverage to children in families that earn too much money to qualify for Medicaid. CHIP is administered at the state level and is usually tied closely to state Medicaid programs. Each state program has its own rules about who qualifies for CHIP. Read the full policy brief.
In West Virginia, uninsured children in families with incomes up to 305 percent of the federal poverty threshold (roughly $79,000 for a family of four), who are not otherwise eligible for Medicaid are eligible for the state's CHIP program. In 2020, West Virginia extended CHIP coverage to maternity services for eligible pregnant women. As of March 2020, there were 34,347 individuals enrolled in West Virginia CHIP.
Private health insurance can still be too costly for those outside of Medicaid and CHIP eligibility, leaving thousands uninsured. In the past, several states have used their CHIP programs to fill in that coverage gap, allowing families whose incomes exceed the eligibility limit for Medicaid or CHIP to purchase public coverage for their children.
While only a small number of states have kept their CHIP buy-in programs after the passage of the Affordable Care Act (ACA), there are a number of compelling reasons to revisit the policy, including an increase in the number of uninsured children, rising private insurance costs, and new flexibility for state plans under the latest federal CHIP reauthorization.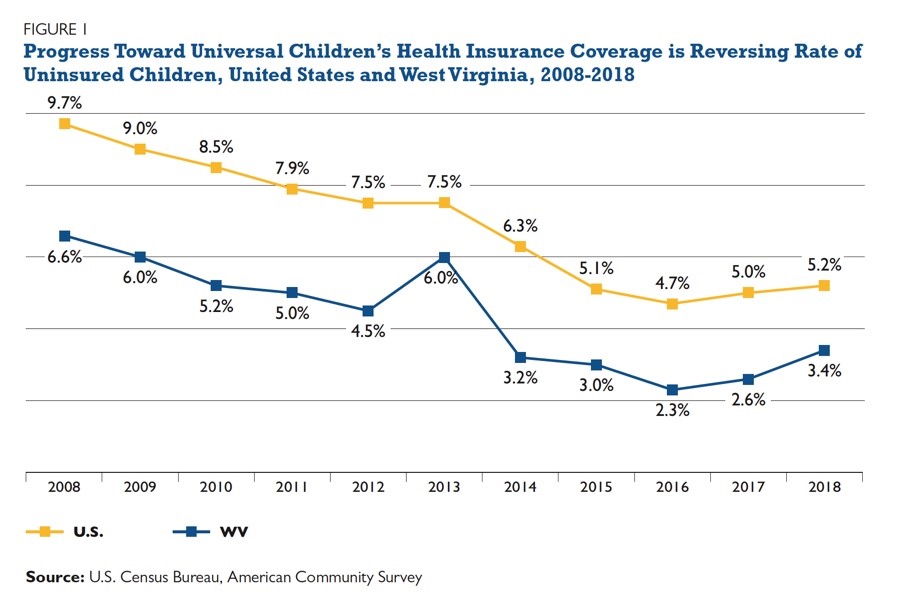 Recommendations
There are several factors to consider when designing a CHIP buy-in program to ensure its success. First, we must remember that families eligible for CHIP buy-in programs are very sensitive to price. Other states closed their programs or saw large drops in enrollment as premiums increased. The Healthy Kids Act allows states to combine their CHIP buy-in and subsidized CHIP risk pools, broadening the risk pool and lowering costs.
Expanding subsidized CHIP eligibility is another way to both close the coverage gap and help a CHIP buy-in program succeed. West Virginia limits CHIP eligibility to 305 percent of poverty. Experiences in other states shows that buy-in programs are not likely to be affordable for lower income families. New York and Pennsylvania both saw increases in CHIP buy-in program enrollment after increasing eligibility for subsidized CHIP. Pennsylvania's CHIP eligibility is up to 319 percent of poverty and New York's is 405 percent. This gives lower income families more affordable options with CHIP, while the cost of a buy-in premium is less of an obstacle for those with incomes above CHIP eligibility.
Finally, states must ensure that buy-in programs are marketed well. Successful programs have robust marketing and consumer outreach strategies so that people are aware of the program and of their eligibility. It is also important to target the right population to be successful. For example, Maine's narrow eligibility of families previously in Medicaid or CHIP targets families whose incomes are rising, and who may be newly eligible for employer-sponsored coverage, while missing families who have recently experienced lost jobs or income.