The 2023 West Virginia legislative session came to a close this past weekend. While lawmakers spent much of their focus this year debating tax cuts, bills touching on a wide range of issue areas were introduced and considered. A recent article, including insight from the WVCBP, provides a recap of what bills were passed this session and what needs were neglected. Excerpt below:
West Virginia's historic Republican supermajority came into the 2023 session with the power to pass any bill they wanted, and bold plans to tackle some of the state's most ambitious issues.
While parts of that agenda were accomplished — like tax cuts, creating 2,500 teachers' aide positions and dividing the Department of Health and Human Resources — many of the state's most pressing issues fell to the wayside as divisions emerged and threatened some of their most ambitious plans (to illustrate, only eight of those 25 bills passed out of the Senate on the first day will become law).
Fights over the state's role in funding private businesses, how to regulate alternative energies, and social issues ate away at time on the calendar as moderate and far-right Republicans struggled to see eye to eye, with a Democratic party that seemed eager to push the wedge.
As the session dragged on, the divisions became more evident. The final weeks were marked by fights over social issues like banning gender-affirming care for minors, prohibiting child marriage and outlawing marital rape, which remains legal in the state. Meanwhile, some of the party's most ambitious bills were jeopardized, or fell to the wayside, like substantive raises for teachers, an affordable health care option for West Virginians facing "the Medicaid cliff," and a data portal to help foster families.
Still, the decisions of this Legislature will impact West Virginians for years to come and going into the session, there were major issues facing the state and its residents. Here's what lawmakers did or didn't do on these challenges.
Please note, the full Mountain State Spotlight article goes on to include detailed recaps by topic area. Access the piece here.

Four Things You Need to Know About Upcoming Changes to Medicaid and CHIP
At the beginning of the COVID-19 pandemic, the federal government passed legislation to help families and health care providers amid an unprecedented health and economic crisis. Among the provisions, states were required to keep people who receive health insurance via Medicaid and the Children's Health Insurance Program (CHIP) continuously enrolled in the programs in exchange for enhanced federal funding. This provision has helped cover more than 650,000 West Virginians throughout the pandemic.
In December 2022, Congress passed legislation phasing down the emergency enrollment provisions. Starting in April 2023, Medicaid will return to pre-pandemic eligibility requirements. Over the next year, the Department of Health and Human Resources (DHHR) will redetermine eligibility for all Medicaid and CHIP enrollees. Some will lose coverage because, while they were eligible when they enrolled, their group income now exceeds the threshold. Others are at risk of losing their coverage even though they are still eligible. Several other health insurance options exist for families no longer eligible. Additionally, many resources are available to ensure those who qualify to stay enrolled in Medicaid.
Here are four things you need to know regarding the upcoming changes to Medicaid:
– Over the past three years, Medicaid has helped more people stay healthy and economically secure
– Many families may lose their Medicaid insurance over the next year
– Medicaid and CHIP enrollees should take active steps to stay covered (see the full blog post for details)
– Several options are available for those who no longer qualify for Medicaid, including CHIP, Medicare, and the ACA Marketplace.
For further details, read Rhonda's full blog post. Please note, additional resources are included at the end of this blog post to help people take action to maintain access to health care.
For additional context and resources, see these recent articles:
Amid Restructuring and Software Troubles, DHHR Now Has to Verify Medicaid Eligibility for 600,000 Users
The WVCBP seeks to learn how the changes to Medicaid impact people in real-time. The Center will conduct surveys and interviews, go through the renewal process alongside selected individuals, and pay them for their time. Providers and health care advocates are also encouraged to share their perspectives. To participate, please follow this link, email Rhonda Rogombe, or text or call her at (304)-873-6222. She looks forward to hearing from you!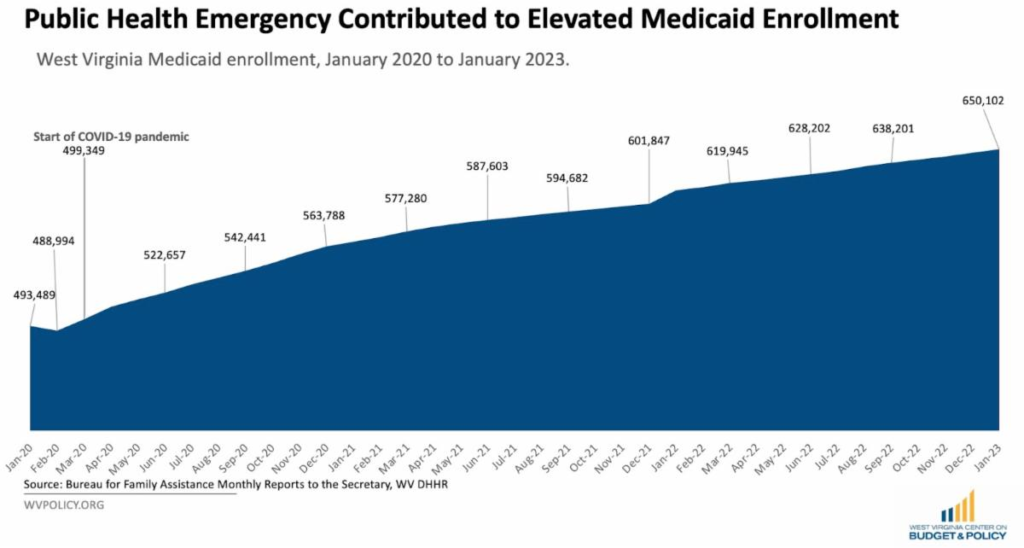 Medicaid Public Health Emergency Unwinding Webinar
After three years of pandemic provisions, Medicaid's public health emergency ends April 1, which means the state will begin to roll people off of Medicaid if they're deemed ineligible.
What does this change mean for enrollees? What do folks need to know? How can you help?
We'll answer these questions and more at our upcoming webinar. Join us Tuesday, March 28 at 6pm.
Learn more and RSVP here.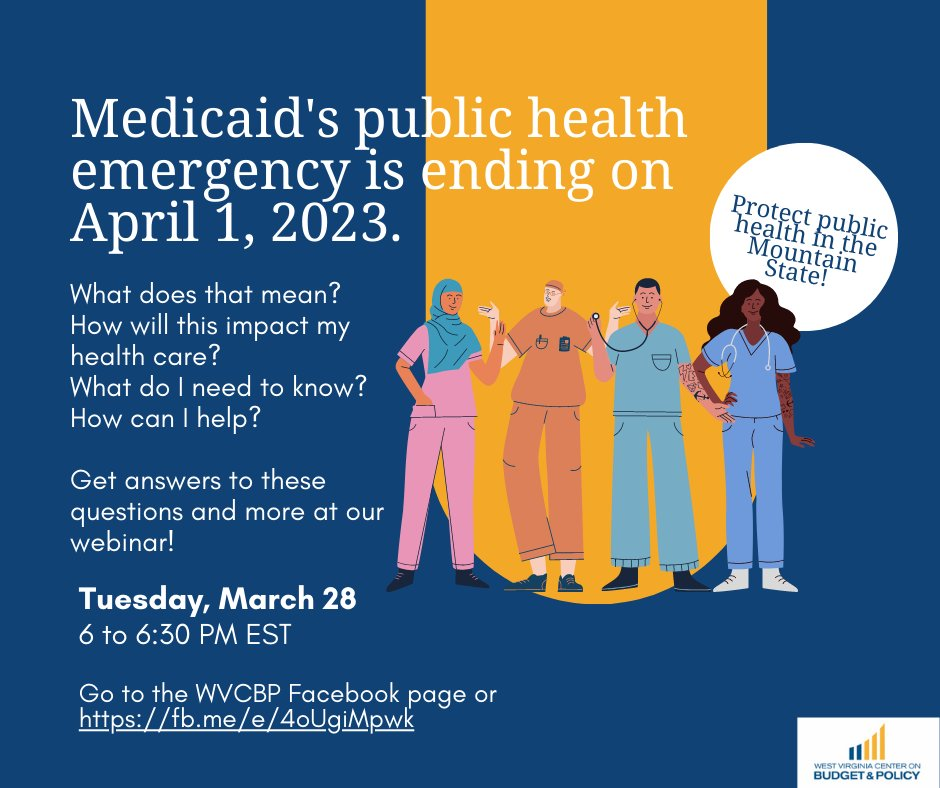 Applications for Summer Policy Institute 2023 are Live!
The Summer Policy Institute brings together highly qualified traditional and non-traditional undergraduate students, graduate students, and policy-curious people of all ages to build policy knowledge, leadership skills, and networks.
SPI attendees participate in interactive sessions where they learn the ins and outs of policy change through a research and data lens, as well as crucial skills rooted in community engagement and grassroots mobilization. Attendees will meet West Virginia leaders from government, non-profit advocacy, and grassroots organizing spaces to build relationships and networks.
Throughout the convening, participants work in small teams to identify and develop policy proposals to shape the future they want to see in the Mountain State, culminating in team "policy pitches" to community leaders. Sessions will equip participants to focus on defining the problem as an essential first step before progressing to proposing solutions.
After three years of virtual SPI, we're excited to announce that we will be returning to an in-person format for SPI 2023! The event will take place at Fairmont State University from July 28-30.
There is no cost to attend, and students can work with professors to receive course credit. It is required that participants attend all sessions during the three-day convening.
To apply, please complete this Google Form and submit your brief letter of interest to summerpolicyinstitute@gmail.com. The application deadline is May 1.
For more information, please see our event landing page.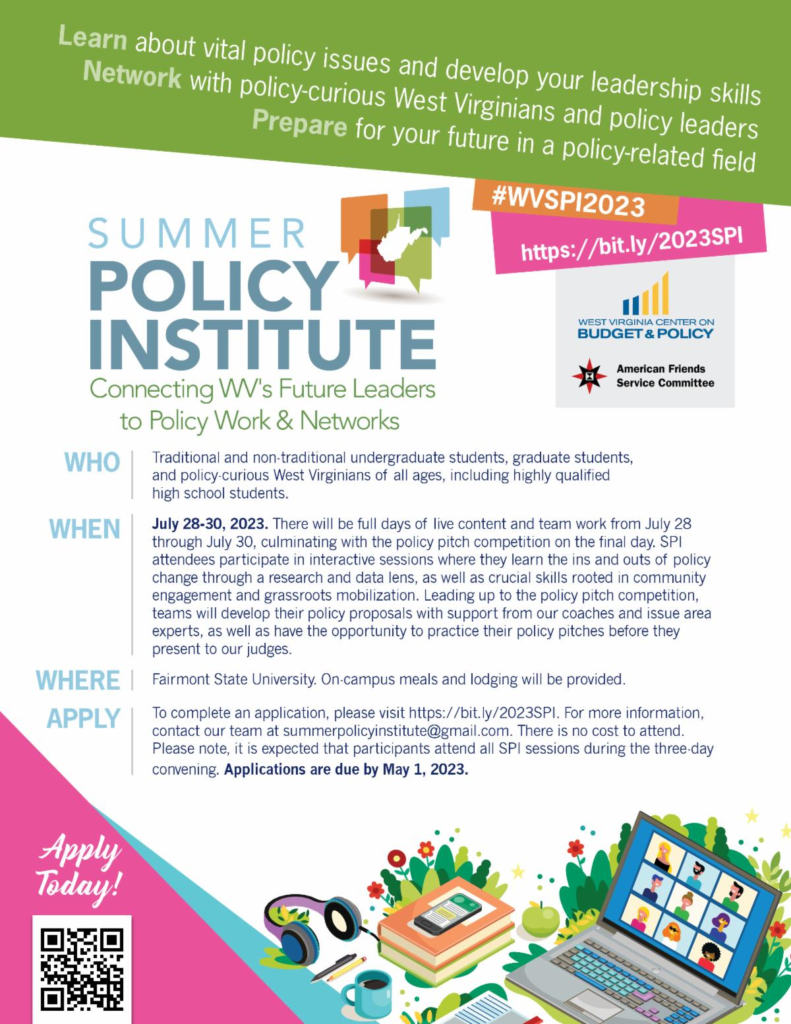 Share Your Medicaid Experience with Us!
The WVCBP's Elevating the Medicaid Enrollment Experience (EMEE) Voices Project seeks to collect stories from West Virginians who have struggled to access Medicaid across the state. Being conducted in partnership with West Virginians for Affordable Health Care, EMEE Voices will gather insight to inform which Medicaid barriers are most pertinent to West Virginians, specifically people of color.
Do you have a Medicaid experience to share? We'd appreciate your insight. Just fill out the contact form on this webpage and we'll reach out to you soon. We look forward to learning from you!
You can watch WVCBP's health policy analyst Rhonda Rogombé and West Virginians for Affordable Health Care's Mariah Plante further break down the project and its goals in this FB Live.