A new report from the Economic Policy Institute looks the economic impact of Fair Minimum Wage Act of 2013, which was introduced in Congress in response to President Obama's call to raise the minimum wage made during this year's State of the Union address. The Fair Minimum Wage Act of 2013 would raise the minimum wage to $10.10/hr through three incremental increases of $0.95/hr, and then index it to inflation. The minimum wage has not kept up with rising inflation; today's minimum wage is lower than it was in 1968 after adjusting for inflation. The minimum wage is also insufficient to keep a minimum wage earner's family out of poverty, unlike in the past, and it has not risen with increased productivity and an expanding economy.
In West Virginia, an estimated 191,000 workers would see higher wages because of the minimum wage increase, both directly and indirectly. Raising the minimum wage to $10.10/hr would increase the wages of these workers by a total of $360 million, or an average of $2,444 annually per worker. The increase in wages would stimulate demand for goods and services, increasing the state's GDP by $228 million, and help create 900 jobs.
While the perception exists that many minimum wage earners are simply teenagers with part-time jobs, the reality is that the most of the beneficiaries of an increase in the minimum wage are adults working full time to support their families. For example, in West Virginia:
Over 90 percent of the beneficiaries of a minimum wage increase are over the age of 20.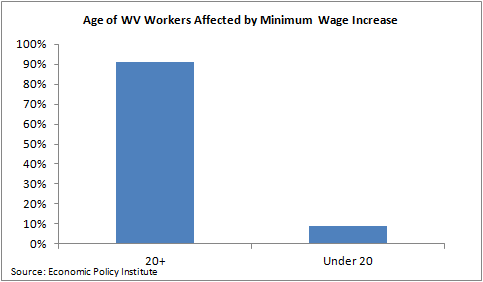 Nearly 60 percent work full time, and nearly 90 percent work at least 20 hours a week.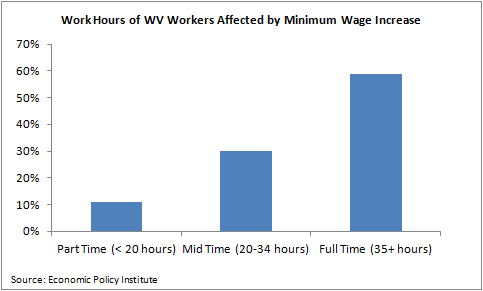 More than 28 percent have children, while over 41 percent are married.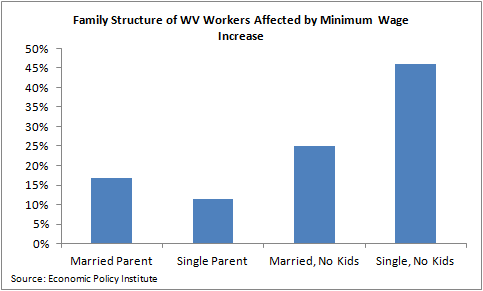 Almost 84 percent have at least a high school education, while almost 38 percent have at least some college education.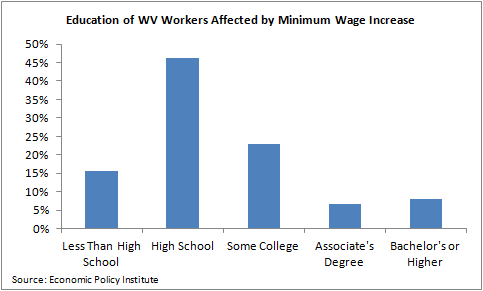 In addition, 25% of children in West Virginia live with at least one parent who would benefit from an increase in the minimum wage. The 191,000 workers in West Virginia who would benefit from a minimum wage increase earn on average 52% of their family's income, and 19.5% of them are their family's sole provider of income. An increase in the minimum wage would also benefit women, who make up 60% of those who would see a wage increase in West Virginia.
For West Virginia, increasing the minimum wage would boost the incomes of some of the state's hardest workers, help families, and spur economic growth. In the past decades, wage increases for working families in West Virginia have been scarce. Increasing the minimum wage would help reverse that trend.