In light of the COVID-19 pandemic, much of the WVCBP's research and advocacy focus has shifted to the virus' public health and economic impacts in West Virginia. This page will serve as a home for our work on COVID-19, our policy recommendations for the state, and resources for West Virginians who need them.
For the most up-to-date news and research, please follow us on Twitter and Facebook, and subscribe to our weekly newsletter. For specific inquiries, please email info@wvpolicy.org or find contact information for WVCBP staff here.
COVID-19 Economic Impact in WV
COVID-19 is having major impacts on West Virginia's revenues, state unemployment claims, and enrollment in safety net programs like Medicaid and SNAP. We are tracking them all here.
Policy Recommendations
Governor Justice and state agencies have already taken several proactive steps in light of COVID 19 to protect West Virginians who face health and economic impacts. Stay-at-home orders are currently effective through April 30 and the state's public schools will not reopen this year.
At the same time, additional steps are needed in order to strengthen our safety net and public health infrastructure.
So far, West Virginia has adopted our recommendations to:
Our additional recommendations fall under four major pillars:
Strengthen the Safety Net
Suspend the redetermination of eligibility for WIC, SNAP, TANF, and CCDF child care services for the duration of the public health emergency.
Streamline Medicaid enrollment by expanding presumptive and retroactive eligibility, allowing enrollees to self-attest their eligibility, utilizing federal data-matching resources, and delaying the annual renewal process to ensure continuous coverage.
Utilize contingency funds to provide outreach, education, and testing to vulnerable people who are most likely to be impacted by COVID-19, including those in homeless shelters.
Bar utility shutoffs and evictions via executive action.
The Food for All coalition has a series of recommendations to streamline food distribution and access to children who are out of school across all counties.
Improve and Expand Unemployment Insurance
Utilize federal funding available via the CARES Act to enact a work sharing program to protect jobs.
Allow the self-employed, gig workers, and independent contractors to file for unemployment insurance benefits.
Ensure Access to Health Care
Extend health coverage for testing and treatment of COVID-19 to the uninsured.
Require insurers to expand telehealth benefits and availability.
Waive copays and coinsurance for COVID-19 related testing and treatment.
Protect the Health of Justice-Involved Residents
Suspend charging those in our state's prisons and jails for phone calls.
Instruct the Division of Corrections and Rehabilitation to identify all inmates in state correctional facilities who currently have 365 or fewer days of incarceration left to serve for the purpose of granting presumptive parole of these individuals, in the absence of evidence that they would pose an immediate and direct threat to public safety.
Relieve the dangerous threat posed by overcrowded correctional facilities by instructing all relevant agencies to creatively work together to identify or expand recovery homes and transitional housing where released inmates who are homeless or struggling with addiction can go during this pandemic.
Instruct state and local law enforcement agencies to use their discretion to respond to misdemeanor legal violations through warnings, summonses, and citations.
Request that the West Virginia Supreme Court issue instructions to magistrates to reduce the number of people held pretrial in regional jails by setting personal recognizance bonds for non-felony offenses and establishing expedited judicial review and release procedures so that no one is incarcerated longer than 72 hours.
End the process of remitting to prison individuals who have committed technical parole violations in the absence of further criminal acts. Like all other government agencies, the criminal justice system.
Research/Blog Links
COVID-19 Shows Importance of Census While Increasing Challenges for an Accurate Count In mid-March, at the same time that schools and businesses across the state were being closed due to COVID-19, households also began receiving invitations in the mail to complete the 2020 Census.
Work Sharing Could Help Both Businesses and Workers During the Coronavirus Downturn With tens of thousands of West Virginians losing their jobs and filing for unemployment insurance benefits as the COVID-19 pandemic disrupts the economy, there is renewed interest in "work sharing" programs.
Policies to Support Communities Post-Coal and Post-COVID-19 Congress must take specific action to help coalfield communities rebound from the economic challenges that existed before COVID-19 and that continue to worsen amidst the pandemic.
60,000 West Virginians Have Likely Lost Health Coverage Over the Past Month Much of the conversation on record job losses in West Virginia over the past five weeks has centered on our state's unemployment insurance system, and with good reason.
Tap Reserves and Enact Progressive Tax Policy to Address COVID-19 Economic Crisis Although Congress allocated $1.25 billion in state fiscal aid for West Virginia in the CARES Act that passed last month, it's highly likely this will not be enough money to shore up state and local government budgets from the economic impacts of the COVID-19 pandemic.
Tracking the Coronavirus Economic Impact in West Virginia Social distancing, closing of nonessential businesses, and stay at home orders have all helped protect lives in West Virginia. But they have also led to record job losses and increasing hardship as people struggle to make ends meet.
West Virginia's Unemployment Trust Fund May Run Out in Weeks According to last week's data release, 46,251 initial unemployment claims were filed in West Virginia during the week ending April 18, by far the highest number in state history.
Low-Income Earners, Women and Workers of Color First Back to Work under Governor's Plan Earlier this week, Governor Jim Justice unveiled his plan for reopening West Virginia's businesses, dubbed "The Comeback".
COVID-19 Reforms in West Virginia are Reducing Incarceration but More Action Needed It has been well demonstrated that jails and prisons are incubators and amplifiers of diseases and infections because of the tight quarters of correctional facilities.
West Virginia's Budget Shortfall Could Top $3.6 Billion Through FY 2022 The pressure on the state budget from the COVID-19 pandemic and resulting economic fallout continues to mount.
Media Hits
Op-ed: Paid Sick Leave is Good Health Care Policy Like many things, the coronavirus is exposing the disproportionate impacts that disease has on those with the least in our country. "Just stay home if you're sick" is much easier said than done.
Report: WV Population 'Most at Risk in US' for Coronavirus With Gov. Jim Justice issuing a stay-at-home order this week to battle COVID-19, a new report warns West Virginia has one of the nation's most vulnerable populations for contracting the deadly virus.
Stimulus Bill includes Additional Unemployment Pay The federal government passed its stimulus bill Friday, hoping to ease financial stress across the country. This coming on the heels of West Virginia hitting its largest number of unemployment claims ever.
Sean O'Leary: Financial Aid to WV Crucial During Coronavirus A crisis like the coronavirus outbreak creates an immense amount of pressure on state and local government finances.
Kelly Allen: COVID Economic Crisis Highlights Why We Should Be Wary of Longview PILOT Agreement Over the past several months, the Monongalia County Commission has been negotiating a "payment in lieu of taxes" (PILOT) deal with Longview Power LLC to build a gas-fired power plant. Read here.
Newly Unemployed in WV Left to Wait, Wonder When Help Will Arrive More than a tenth of the state's civilian labor force, or 90,000 people, filed for unemployment benefits last month as the coronavirus dealt a crushing blow to an already ailing West Virginia economy.
Unemployment Claims In Ohio Valley Surge Again, Up Another 355,000 Claims for unemployment insurance once again surged around the Ohio Valley as nearly 355,500 people in Kentucky, Ohio, and West Virginia sought help last week amid the economic calamity caused by the coronavirus pandemic.
Ohio Valley Continues Unprecedented Surge Of Unemployment Unemployment insurance claims are still reaching unprecedented levels across the Ohio Valley region.
Advocates Call for Streamlined School Food Distributions Since the closure of public schools in West Virginia in the middle of March, food distributions to students who rely on school meals have taken various forms in the Mountain State's 55 counties.
88 Tested So far Out of Thousands at W.Va. Jails and Prisons The West Virginia Department of Military Affairs and Public Safety released Monday the number of inmates tested for COVID-19 at West Virginia jails and prisons, as well as those in community corrections and juvenile services programs.
Seth DiStefano: Classify Front-Line Workers Among Our First Responder: Gov. Jim Justice needs to immediately classify grocery store, food processing and pharmacy workers who must work during this pandemic as first responders through Executive Order.
Resources for West Vi
rginians
WV PATH Apply for Medicaid, SNAP, TANF, and other benefits
Workforce WV Apply for unemployment insurance benefits
Rapid Response WV Find local feeding sites, recovery help, and other WV-specific resources
Have you recently lost health coverage?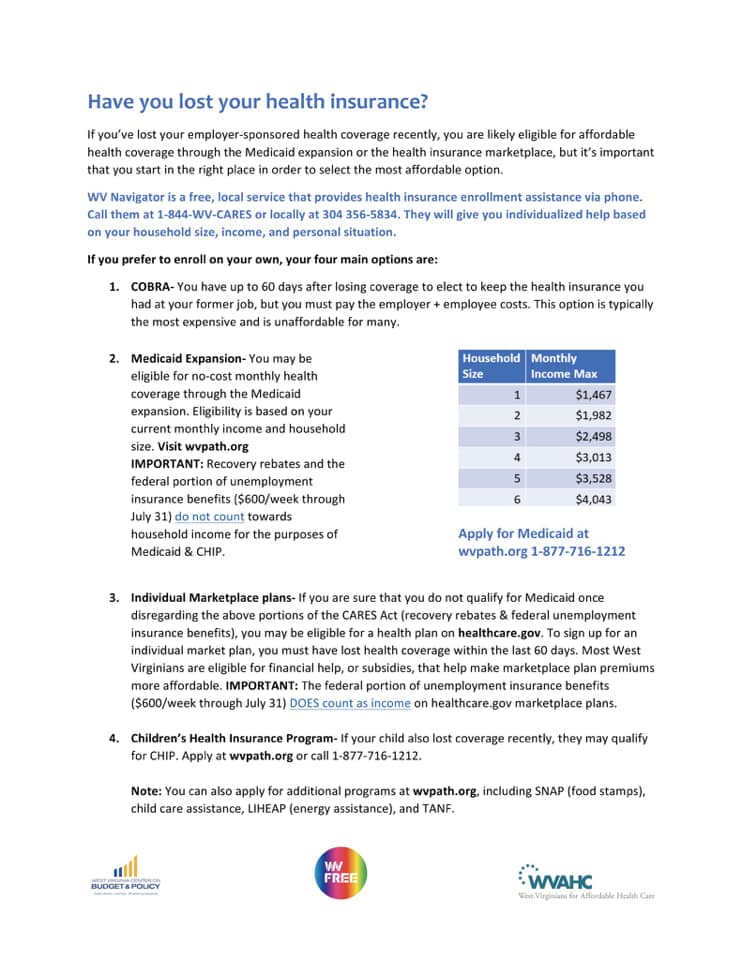 Watch our Facebook Live chat on West Virginia's unemployment insurance benefits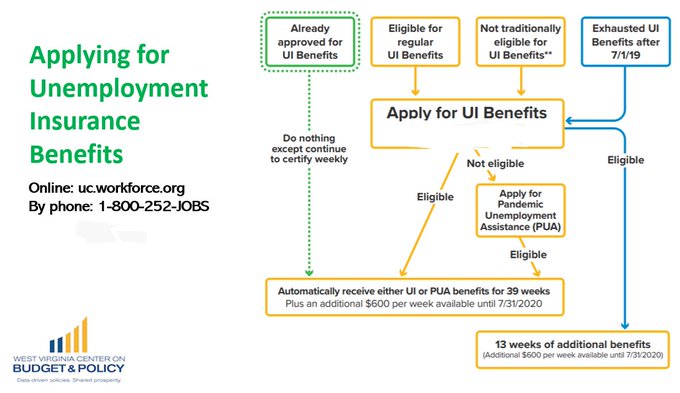 Food For All is a broad and diverse coalition of individuals and organizations across West Virginia who believe no West Virginian should ever go without access to adequate, nutritious food. Here is a letter we sent to Governor Jim Justice with recommendations on how to maximize the federal food assistance dollars coming to the state as part of the COVID-19 relief package.