In light of the COVID-19 pandemic, much of the WVCBP's research and advocacy focus has shifted to the virus' public health and economic impacts in West Virginia. This page will serve as a home for our tracking of the economic impacts of COVID-19 in West Virginia, as well as resources for West Virginians who need them.
For the most up-to-date news and research, please follow us on Twitter and Facebook, and subscribe to our weekly newsletter. For specific inquiries, please email info@wvpolicy.org or find contact information for WVCBP staff here.
COVID-19 is having major impacts on West Virginia's revenues, state unemployment claims, and enrollment in safety net programs like Medicaid and SNAP. We are tracking all of these developments.
Resources for West Virginians
WV PATH Apply for Medicaid, SNAP, TANF, and other benefits
Workforce WV Apply for unemployment insurance benefits
Rapid Response WV Find local feeding sites, recovery help, and other WV-specific resources
Have you recently lost health coverage?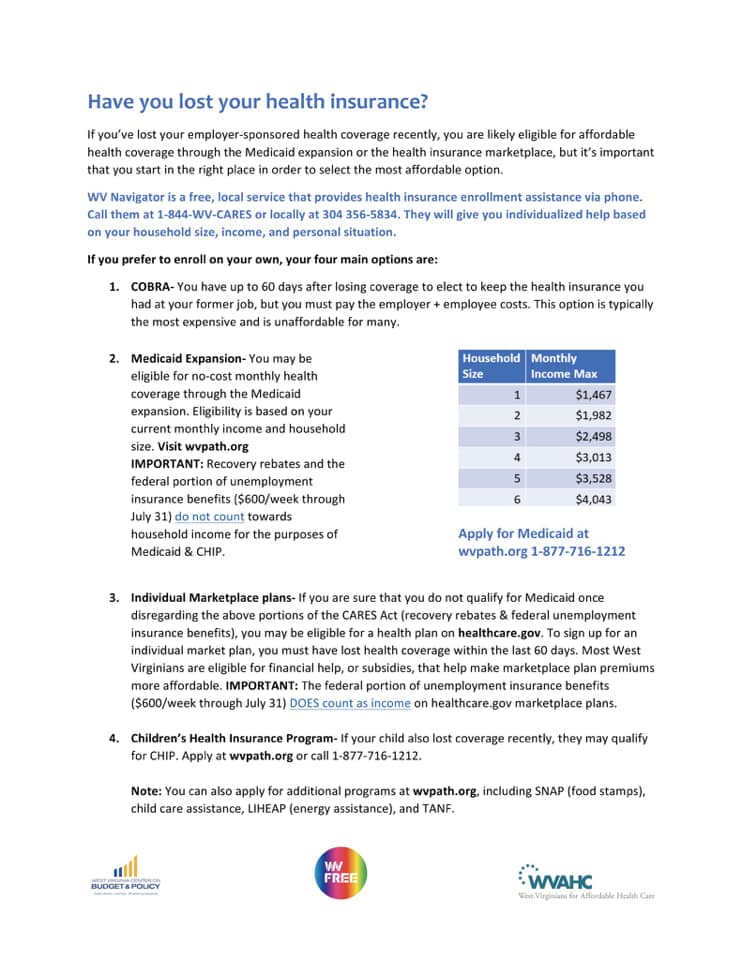 Watch our Facebook Live chat on West Virginia's unemployment insurance benefits