In light of the COVID-19 pandemic, much of the WVCBP's research and advocacy focus has shifted to the virus' public health and economic impacts in West Virginia. This page will serve as a home for our work on COVID-19, our policy recommendations for the state, and resources for West Virginians who need them.
For the most up-to-date news and research, please follow us on Twitter and Facebook, and subscribe to our weekly newsletter. For specific inquiries, please email info@wvpolicy.org or find contact information for WVCBP staff here.
COVID-19 Economic Impact in WV
COVID-19 is having major impacts on West Virginia's revenues, state unemployment claims, and enrollment in safety net programs like Medicaid and SNAP. We are tracking them all here.
Policy Recommendations
Governor Justice and state agencies have already taken several proactive steps in light of COVID 19 to protect West Virginians who face health and economic impacts. Stay-at-home orders are currently effective through April 30 and the state's public schools will not reopen this year.
At the same time, additional steps are needed in order to strengthen our safety net and public health infrastructure.
So far, West Virginia has adopted our recommendations to:
Our additional recommendations fall under four major pillars:
Strengthen the Safety Net
Suspend the redetermination of eligibility for WIC, SNAP, TANF, and CCDF child care services for the duration of the public health emergency.
Streamline Medicaid enrollment by expanding presumptive and retroactive eligibility, allowing enrollees to self-attest their eligibility, utilizing federal data-matching resources, and delaying the annual renewal process to ensure continuous coverage.
Utilize contingency funds to provide outreach, education, and testing to vulnerable people who are most likely to be impacted by COVID-19, including those in homeless shelters.
Bar utility shutoffs and evictions via executive action.
The Food for All coalition has a series of recommendations to streamline food distribution and access to children who are out of school across all counties.
Improve and Expand Unemployment Insurance
Utilize federal funding available via the CARES Act to enact a work sharing program to protect jobs.
Allow the self-employed, gig workers, and independent contractors to file for unemployment insurance benefits.
Ensure Access to Health Care
Extend health coverage for testing and treatment of COVID-19 to the uninsured.
Require insurers to expand telehealth benefits and availability.
Waive copays and coinsurance for COVID-19 related testing and treatment.
Protect the Health of Justice-Involved Residents
Suspend charging those in our state's prisons and jails for phone calls.
Instruct the Division of Corrections and Rehabilitation to identify all inmates in state correctional facilities who currently have 365 or fewer days of incarceration left to serve for the purpose of granting presumptive parole of these individuals, in the absence of evidence that they would pose an immediate and direct threat to public safety.
Relieve the dangerous threat posed by overcrowded correctional facilities by instructing all relevant agencies to creatively work together to identify or expand recovery homes and transitional housing where released inmates who are homeless or struggling with addiction can go during this pandemic.
Instruct state and local law enforcement agencies to use their discretion to respond to misdemeanor legal violations through warnings, summonses, and citations.
Request that the West Virginia Supreme Court issue instructions to magistrates to reduce the number of people held pretrial in regional jails by setting personal recognizance bonds for non-felony offenses and establishing expedited judicial review and release procedures so that no one is incarcerated longer than 72 hours.
End the process of remitting to prison individuals who have committed technical parole violations in the absence of further criminal acts. Like all other government agencies, the criminal justice system.
Research/Blog Links
Leverage Medicaid to Strengthen our Recovery July 30 marks the 55th anniversary of Medicaid. Medicaid is a powerhouse state-federal partnership, providing health coverage to over 560,000 West Virginians, bringing over $3 billion in federal health care funding into our state each year, and supporting hospitals and health care jobs all over the state. 
Jail Bookings Dropped during Initial Months of COVID-19 Emergency, but Momentum is Reversing As the Huttonsville Correctional Center outbreak and numerous outbreaks around the country have demonstrated, jails and prisons are especially vulnerable to COVID-19 transmission.
Addressing Food Insecurity during a Pandemic As the United States Senate reconvenes to negotiate what may well be the final COVID-19 relief package, addressing food insecurity must be a top priority.
Effects of COVID-19 Pandemic are Leading to Housing Insecurity in West Virginia The economic impact of the COVID-19 pandemic has been felt strongly in West Virginia. In just a matter of weeks, the state lost 92,000 jobs and the unemployment rate spiked to 15.9 percent.
Letting Enhanced Unemployment Benefits Expire Would Create Hardship for Families and Hurt West Virginia's Economy Since the end of March, when unemployed West Virginians began receiving Pandemic Unemployment Compensation (PUC) payments – the $600 per week enhancement to unemployment benefits that were part of the CARES Act – West Virginia has received at least $753 million through the federally funded program.
How to Best Use West Virginia's $1.25 Billion in CARES Act Funding Last month, Governor Justice unveiled his plan for using the $1.25 billion in CARES Act funding that West Virginia received to help the state respond to the COVID-19 pandemic.
CARES Act Unemployment Provisions Should Be Extended While Need Remains Thanks to the CARES Act that was passed in March, last week more than 82,000 unemployed West Virginian workers claimed unemployment benefits that were more generous than those they normally would have received, while thousands more were able to receive benefits who otherwise would have received no benefits at all.
Exploring Police Spending in West Virginia The slogan "defund the police," acknowledges an emerging sentiment that state and local governments have spent and are currently spending too much on law enforcement and not enough on social services, mental health, housing, and education.
Drastic Drop in Arrests During COVID-19 Crisis With the emergence of COVID-19 over the past several months, various systems of criminal justice in West Virginia have been forced to adjust their practices in order to reduce the spread of the disease.
COVID-19 Outbreaks in Prisons and Jails Threaten the Health of Rural Communities The recent COVID-19 outbreak at Huttonsville Correctional Center shines a light on why universal and periodic testing of incarcerated individuals and staff at correctional facilities combined with policies to reduce incarceration are so important to protect the health of rural communities during a pandemic.
Media Hits
West Virginians Wait on Word on Whether Additional Pandemic Unemployment Will Continue A "robust" relief plan was what those with a number of West Virginia advocacy organizations said they were hoping to see out of the next federal stimulus package that was in the works on Capitol Hill to address fallout from the coronavirus pandemic.
Some West Virginia Kids Go Hungry as State Touts Summer Feeding Plan Jennifer Boyle-Hempel eats just once a day so she can save her limited food for her kids.
Health Insurance during Coronavirus What happens to someone's health insurance when they lose their job during the coronavirus pandemic, and what does it mean for their health care?
Kelly Allen: Direct Dollars Towards Need Across our state, West Virginians are continuing to bear the brunt of the COVID-19 public health and economic crisis. Food insecurity is spiking, families are facing eviction from their homes because they can't afford rent, parents are struggling to balance child care and work, and officials are scrambling to figure out how schools can safely reopen in the fall.
WV Utility Cutoffs to Resume; A 'Catastrophic' Hardship for Some A ban on West Virginia utility shutoffs during the pandemic has ended this week, leaving many customers scrambling to pay overdue bills to avoid disconnection.
As Unemployment Remains High, Experts Concerned About End of Bonus Payment To slow the spread of the virus no one in the world has immunity to, thousands of West Virginians had to lose their jobs. Now, as people head back to work, some low-earning West Virginians are realizing they may have been better off without a job.
Republican Attorneys General, DOJ Submit Briefs in 'Obamacare' Lawsuit Eighteen state attorneys general and the U.S. Department of Justice have filed their opening briefs in the legal challenge to former President Barack Obama's health care law with the U.S. Supreme Court.
An Open Letter to Gov. Justice: Please Ensure Children Have Access to Nutritious Food This Summer Dear Governor Justice, Food for All is a broad and diverse coalition of individuals and organizations across West Virginia who believe no West Virginian should ever go without access to adequate, nutritious food.
Kelly Allen: More Health Care, Not Less, Needed Amid Pandemic Around the country, states are seeing dramatic increases in Medicaid enrollment as furloughed workers and their dependents lose their job-based health insurance and turn to Medicaid for coverage during the coronavirus pandemic.
Ted Boettner: WV Needs Planning, More Federal Money to Stay Afloat While West Virginia has avoided major budget problems, so far, it is unlikely to continue as several billion dollars in federal aid dries up and the economic reality of the pandemic-induced recession continues to put downward pressure on state and local budgets.
Resources for West Vi
rginians
WV PATH Apply for Medicaid, SNAP, TANF, and other benefits
Workforce WV Apply for unemployment insurance benefits
Rapid Response WV Find local feeding sites, recovery help, and other WV-specific resources
Have you recently lost health coverage?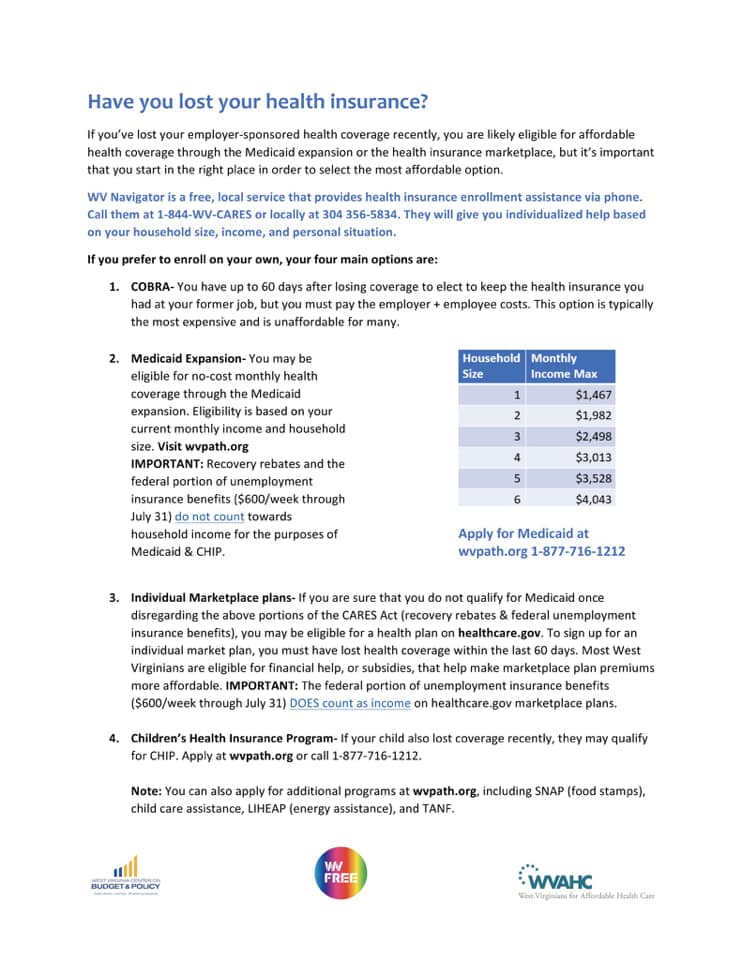 Watch our Facebook Live chat on West Virginia's unemployment insurance benefits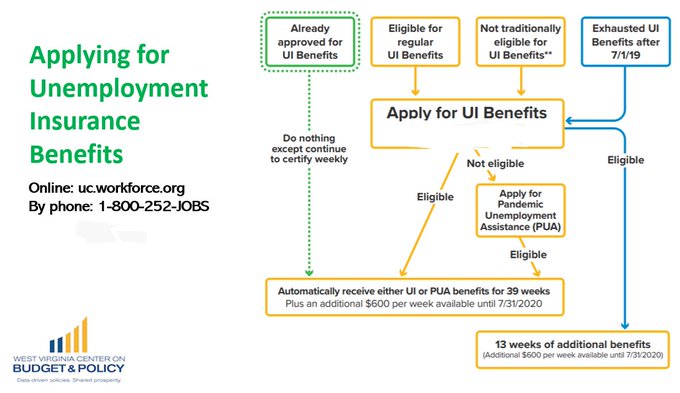 Food For All is a broad and diverse coalition of individuals and organizations across West Virginia who believe no West Virginian should ever go without access to adequate, nutritious food. Here is a letter we sent to Governor Jim Justice with recommendations on how to maximize the federal food assistance dollars coming to the state as part of the COVID-19 relief package.